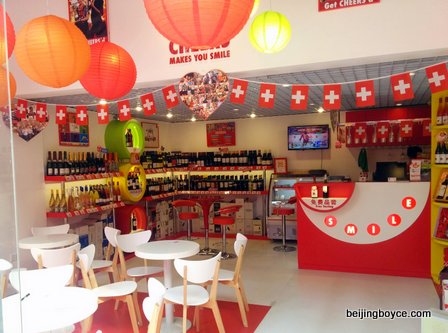 When I wrote about CHEERS getting locked out of its Yashow shop last month, I said I'd update if there were any more developments. Here's one: the CHEERS team finally got access to the place and cleared its stuff out. That's at least one kind of closure.
As for whether or not CHEERS will open another shop in the area—it had one just around the corner near Two Guys and Mr. Shi's Dumplings and one on Xindong Road near No More Bunz—CEO Claudia Masueger says nothing has been confirmed although she is currently looking at another place in the area.
Anyway, despite this setback, CHEERS has been a success during the past six years, something one might call "trial by fire": Masueger originally focused on serving business clients, but when the company warehouse burned down in 2010, shifted to regular consumers and now has some 18 stores in Beijing and a presence in more than 15 other Chinese cities.
See her firsthand account here on sibling blog Grape Wall of China. Here's an excerpt:
I am not too sure if it was a blessing in disguise, but in 2010, the warehouse of the first wine business I set up in Beijing burned down in a huge blaze, and I was put out of business for four months.

I still remember the tears in my co-worker's eyes as I tried to console him, telling him that we would definitely find a way through this. To my surprise, he told me that they were actually tears of joy, and he went on to explain that in Chinese culture, 'Fire represents change and purification and it means immense fortune in the future.' It was a refreshing perspective for me.

It was also served as the catalyst to how CHEERS Wines was born.
You can also find other posts I have written about CHEERS here, here and here.
*     *     *
Get regular Beijing updates via my
Instagram
and
Twitter
feeds. Also see my sibling sites
Grape Wall of China
,
World Baijiu Day
 and
World Marselan Day
. Help cover the hosting and other costs of these sites with a
WeChat
,
AliPay
or
PayPal
donation.
*     *     *