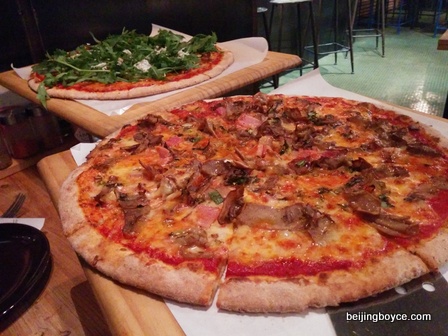 By Jim Boyce | With The Beijinger bar awards, restaurant awards and Burger Cup in the rear view mirror, the last "vote for me" traffic for this year is straight ahead with The Pizza Cup. This year's campaign is based around a Pizza Festival on October 15 and October 16 at Wangjing SOHO, with a month's worth of deals preceding that bash and voting on the 64-venue pool starting right after it. That got me thinking about some of my favorite pizzas.
---
Pizza+. These guys still get 'er done. My go-to pie remains the Capricciosa, a mouth-watering concoction with olives, artichokes and ham. When feeling like something fancier, I opt for The Forest, with sausage, walnuts, mushrooms and truffle cream. This is some of the best-value pizza in town, although high on sodium, so budget a two-liter bottle of Nongfu per pie.
---
Gung Ho! When I need a salad to make ordering pizza seem healthier, I call GHP. While there are numerous good options, I still lean toward the Greek salad—low-salt option available—created by Jeff Powell for the original menu. That flat parsley seals the deal. I also crack out my collection of Taco Bell hot sauce to spice those pies a bit.
---
It might sound gross but the nacho pizza at Q Mex is a delicious combo of two comfort foods. Ingredients like guacamole, sour cream, nacho chips and more result in textural and flavorful delights. Half-price from 5 PM every Tuesday. Not surprisingly, some of the Q-Mex guys are involved in another tasty mashup, Baozza.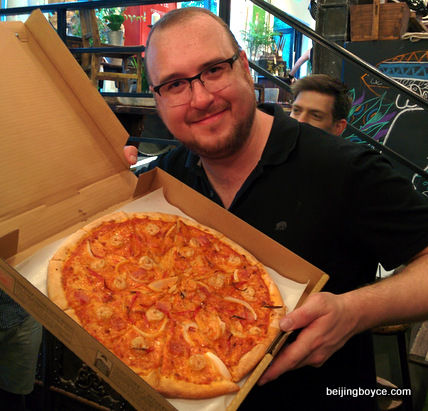 Special mention to Gung Ho for its "Drunken Shrimp" pizza, created for World Baijiu Day and held here by Josh "Las Vegas" Lally. The seafood was sauteed and flambeed in China's national spirit.
---
Ten years ago, Buona had a special place in the hearts of many of my chef friends, the pizza equivalent of the KFC spicy chicken burger. There's something about it that taps into primal needs. While Buona is still around, the 2015 edition of those pies come courtesy of The Irish Volunteer. Solid, dependable, good-value pizza that slows your bloodstream and makes the world seem warmer and fuzzier. Definitely fuzzier. Try the meaty "Canadian" pizza.
---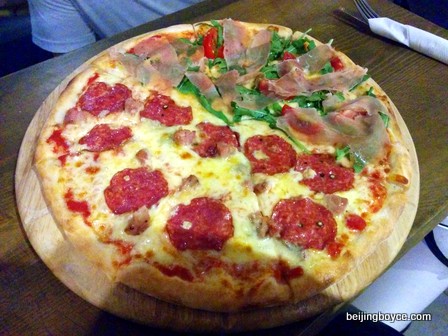 Best mention of Ramo pizza in this post
See above.
---
Pizzas I've Had Once and Liked and Need to Try Again
Looks like it's time for a lot more research…
---
Check out sibling blogs Grape Wall of China and World Baijiu Day.
*     *     *
Get regular Beijing updates via my
Instagram
and
Twitter
feeds. Also see my sibling sites
Grape Wall of China
,
World Baijiu Day
 and
World Marselan Day
. Help cover the hosting and other costs of these sites with a
WeChat
,
AliPay
or
PayPal
donation.
*     *     *