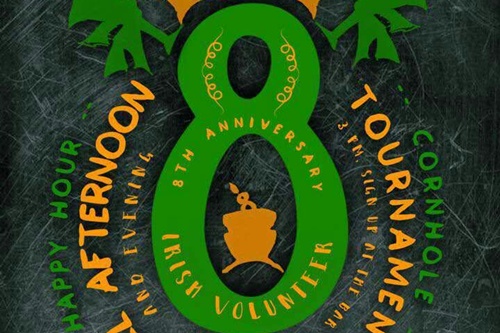 By Jim Boyce | When The Irish Volunteer opened eight years ago, more than a few people said the place would not last. Some said that it was too small or that Lido lacked enough bar traffic or that the ragtag group of investors was likely to lose focus once the novelty wore off. The jealous claimed it wasn't a "real" Irish bar—and that was even before the IV added Vietnamese food, "Canadian pizza" and a side joint called The Hockey Bar.
Those critics didn't count on one thing: GEORGE SMITH! His upbeat Chardonnay-fueled never-say-die attitude kept the team going even in the toughest times. Like when that big sign out front got replaced with one that identified the bar as being "Insh" rather than "Irish". No use crying over spilled Jameson: just use a bit of paint to turn that n into an r and an i. Done and done.
Anyway, it's been fun to see The IV grow over the years. That includes an extension out front, the murals in back, an expanded menu, The Hockey Bar addition, and more. I've had some good times there. The highlight was watching Canada beat the United States for the men's gold hockey medal during the Vancouver Olympics. Tense game! Joining the Maovember and Canada Day parties as well as seeing the Cubs win the World Series also rank high.
So, cheers to The Irish Volunteer when it celebrates its eighth birthday on April 15. There will be a corn toss tournament from 3 PM and no doubt both plenty of drink specials and fellowship. Check out the poster below and, further down, the gallery of some photos I've taken at The IV over the past eight years.
The Irish Volunteer, 311 Jiangtai Road, across from Crowne Plaza Lido Hotel.
*     *     *
Get regular Beijing updates via my
Instagram
and
Twitter
feeds. Also see my sibling sites
Grape Wall of China
,
World Baijiu Day
 and
World Marselan Day
. Help cover the hosting and other costs of these sites with a
WeChat
,
AliPay
or
PayPal
donation.
*     *     *