By Jim Boyce | Q-Mex Taqueria is in "soft opening" phase and the Coconut Margarita is a drink first-timers should try. The Q-Mex team said it took ages to get the taste and consistency right but it was time well spent. This milky concoction, garnished with coconut flakes, is delicious and dangerously smooth given it is loaded with 60 ml of tequila.
By the way, co-owner Stefan Schober says all of the 70 tequilas listed at Q Mex Taqeuria are 100-percent agave. The trip that he and a Q Mex team took to Mexico last year convinced them that it is worth the extra effort and cost to source these spirits.
I stopped by the new place, after the Canada Day party, last night for a launch event. The party featured free-flow tacos (the pulled beef version nicely weds firm moist meat to zesty vidalia onion and cilantro), chips and salsa (with particularly fresh tomatoes) and homemade chips (you best like salt). The space is a shift from the sprawling cubbyhole-filled Q Mex, offering a rectangular restaurants that includes booth and bar seating as well as a long patio out front. Here's the business card with a map: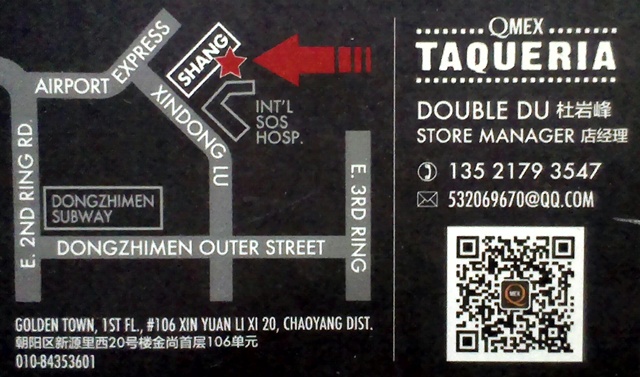 Q
---
Check out my new BB Daily page with headlines, weather and air quality updates, foreign currency data, and lots more. Also check out sibling blogs Grape Wall of China and World Baijiu Day.
*     *     *
Get regular Beijing updates via my
Instagram
and
Twitter
feeds. Also see my sibling sites
Grape Wall of China
,
World Baijiu Day
 and
World Marselan Day
. Help cover the hosting and other costs of these sites with a
WeChat
,
AliPay
or
PayPal
donation.
*     *     *