By Jim Boyce |  Outside of an occasional foray to Biteapitta, it's been years since I've spent time in Tongli Studio, but I found myself hiking those worn stairs last night to try… homemade cider?
El-Mar Bengal, known from his DJ work at Tongli Studio's Kokomo, those aircraft carrier parties in Tianjin and gigs across China, called me at 11 PM with the invite. The project isn't exactly a secret—see the photo below, posted last month by his buddy Rowan—but I was keen to try the stuff, since the only other Beijing-made cider I have tasted is from iBrew.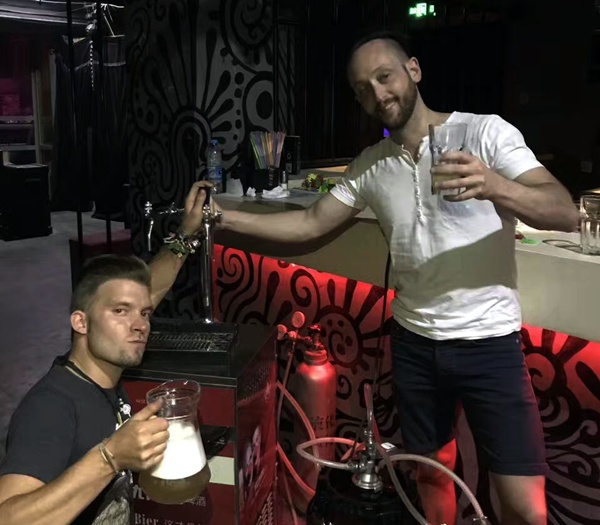 These guys are making a sweet and a dry apple cider. The fruit hails from Shandong, an area near Yantai, which grows better apples than grapes and might consider a future of cider and Calvados rather than pushing to be a world-leading wine center.
They presented them to a group of friends and members of the bar and restaurant trade. The general consensus: both ciders were palatable—very apple-y—though in need of fine-tuning, especially the carbonation levels, something they acknowledge.
The plan is to sell these ciders primarily by bottle, with a few kegs on the side, and to tackle fruits beyond apples, too. And they have an eye to exporting their brand. That led to lots of discussion about a possible name. Perhaps, in the interest of making exports as easy as possible, Belt & Road Cider? It kind of rolls off the tongue, no?
In any case, I'll have more info when this cider is ready for market.
And if you seek cider even sooner, check out the impressive lineup at Paddy O'Shea's, especially on Thursday nights when they are 30 percent off until midnight.
---
See 京B Daily for China headlines, food and drink deals, job openings, and more. I'm also onLinkedIn, Twitter, Youtube and Wechat ('beijingboyce'). And check out sibling blogs Grape Wall of China and World Baijiu Day.
*     *     *
Get regular Beijing updates via my
Instagram
and
Twitter
feeds. Also see my sibling sites
Grape Wall of China
,
World Baijiu Day
 and
World Marselan Day
. Help cover the hosting and other costs of these sites with a
WeChat
,
AliPay
or
PayPal
donation.
*     *     *