By Jim Boyce | Ray Heng is looking to rock the Mexican food scene in Beijing. After all, his venue is named Pebbles—small rocks, rock the scene, get it? He recently returned from 18 months in Chicago where he trained at Kendall College and interned at famed Mexican eatery Frontera Grill by chef Rick Bayless. (Heng and family used Bayless' guest room during their U.S. stay).
Pebbles is in Wudaoying Hutong, a brisk five-minute walk from the Lama Temple entrance. It's the kind of place where you can get cozy with a friend at the bar, grab seats in the airy main dining room with its views, through a glass ceiling, of towering trees, or just chill out on the rooftop patio.
And while Heng plans to keep comfort foods dished up at Pebbles over the past half-dozen years, the goal is to add finer fare and round out the menu.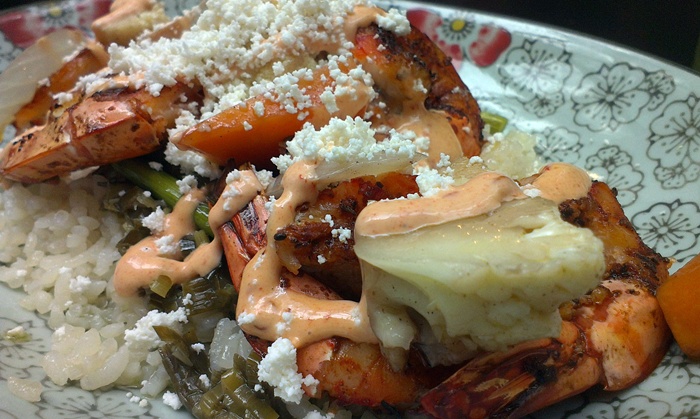 I tried a half-dozen entrees yesterday. My favorite was the camarones con arroz: grilled marinated shrimp with chipotle mayonnaise, pickled vegetables, buttered rice and more. The tangy queso fresco, a fresh cheese made by heating milk and adding lime, gave this dish the edge on its competitors. (It also paired well with a Canadian Bench 1775 white blend I brought and a 1421 New Zealand Sauvignon Blanc brought by Randy Svendsen.)
The U.S. rib-eye also had a touch of queso fresco along with grilled asparagus, black pepper sauce and more. The steak came cooked a bit more than I prefer but was nevertheless pleasantly smoky and juicy. It paired well with 1421's Carmenere, a fresh drop that would be fine on its own.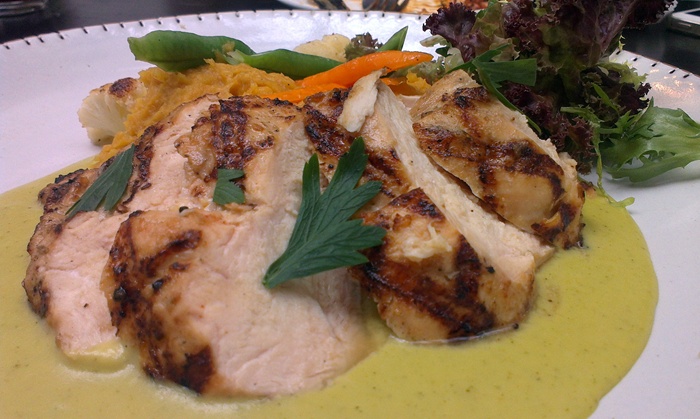 The garlic chicken—it spends time on a wood-fired grill then heads to the oven—was well received. The side sweet potato mash included tequila and Kahlua and that boozy influence made it a nice match for the Bad Monkey IPA from Yunnan. (This IPA isn't the typically hoppy U.S. style but one with more chocolate and coffee notes.)
The grilled salmon was tender, although mango doesn't really work for me. I'm okay with pineapple on pizza, but no mango with my grilled salmon, please.
Heng also prepared a pair of dishes that will appeal to vegetarians and vegans.
The vegetarian enchiladas were packed with steamed kale, nettles, sauteed onions, guajillo chili, and cream and goat cheeses. That was topped with a second sauce, made of passila chilies and hawthorne. Heng used hawthorne for a local touch and says everything from pineapples to mangos is used at Frontera, where he spent a great deal of time working on this dish and said it was wildly popular.
Finally, the cauliflower steak. It's veg given meat treatment, from seasoning to grilling. Set on a jalapeno black bean sauce, it is paired with guacamole and chips as well as butter rice (hold the butter for the vegans).
A fun tasting, with Heng explaining how he tweaked recipes due to ingredient availability in Beijing or to add local twists. It will be interesting to see how he continues to fine-tune these and other dishes over the coming months.
With all those entrees down the hatch, we finished off the lucha libre combo dips with which we started, the sides including everything from fresh salsa and guacamole to refried beans and peppery arbol. (Sell that last one by the jar Ray, I want it for my scrambled eggs in the morning.)
The new menu items range from rmb78 for cauliflower steak to rmb248 for the ribeye. They will be available daily, starting Thursday, from 5 PM. You can see the menu here.
---
See 京B Daily for China headlines, food and drink deals, job openings, and more. I'm also onLinkedIn, Twitter, Youtube and Wechat ('beijingboyce'). And check out sibling blogs Grape Wall of China and World Baijiu Day..
*     *     *
Get regular Beijing updates via my
Instagram
and
Twitter
feeds. Also see my sibling sites
Grape Wall of China
,
World Baijiu Day
 and
World Marselan Day
. Help cover the hosting and other costs of these sites with a
WeChat
,
AliPay
or
PayPal
donation.
*     *     *