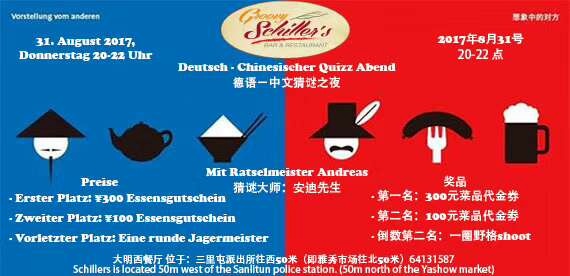 By Jim Boyce | Groovy Schiller's became the newest stop on the city's quiz circuit when it organized an evening of brain teasers, presented in German and Chinese, last Thursday. Eight teams joined the inaugural event, one that coincides with a weekly special on schnitzel, sausage and pork knuckles.
"We had a good turnout for the first time," says owner Jack Zhou. "We plan to hold the quiz every two weeks."
That means the next one is September 14. Pro tip: when in doubt, there is 50 percent the answer to any question is David Hasselhoff, autobahn, Steffi Graf or schadenfreude.
Groovy Schiller's has also expanded its menu far past German classics to include lamb chops, pepper steaks, burgers, 11 kinds of salad and a platter of deep-fried goodness that fans of the former Den Combo will appreciate. Plus chicken tenders. Trust me—and regular patron Connor Brennan—and try the chicken tenders.
Here are the weekly food specials.
---
Check 京B Daily for headlines, job openings, food and drink deals, weather updates, and more. Also see sibling blogs Grape Wall of China and World Baijiu Day.
*     *     *
Get regular Beijing updates via my
Instagram
and
Twitter
feeds. Also see my sibling sites
Grape Wall of China
,
World Baijiu Day
 and
World Marselan Day
. Help cover the hosting and other costs of these sites with a
WeChat
,
AliPay
or
PayPal
donation.
*     *     *