By Jim Boyce | Last night's mission: visit the new First Floor. Revised mission after visiting 1F: check out other veteran Beijing bars and bar people in the Sanlitun-Gongti bar scene. A quick recap.
---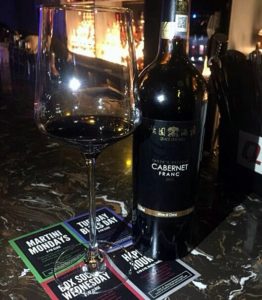 The mommy and daddy of Cabernet Sauvignon are Cabernet Franc and Sauvignon Blanc. This week features Cabernet Franc Day so I started the night by visiting Q BAR to share a bottle of Grace Vineyard with owner George Zhou.
Grace's Cabernet Franc 2003 was one of the first good local wines I tried in China and, a dozen years later, the 2015 did not disappoint. It had crushed violet, dark plum, black licorice, cedar and graphite aromas and soft ripe restrained fruit. Elegant and delicious.
We offered some to our fellow customers although I found their relative scarcity sad. A wickedly long bar inside, a sprawling deck with private rooms outside, a quality sound system, and tasty drinks at reasonable prices should draw a bigger crowd. The problem has been a minimalist approach to marketing strategy. Minimalist as in almost none. Thankfully, the place is increasingly active on social media, now has a website, and is planning more events, including a wave of gigs by DJ BB Deng, starting Friday.
Anyway, after that bottle, I hit the road with Zhou for just "one drink" at First Floor.
---
I wrote an entire post about my less-than-impressive time at the new FIRST FLOOR. The overall experience—from drinks to service to the band—defined uninspired. On the other hand, it did inspire us to continue the night out, because there was no way we were ending things like that.
---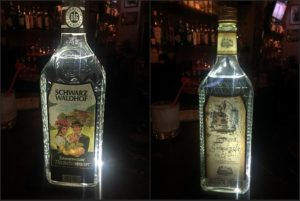 Groovy Schiller's is a happy mess. It's a German-focused bar / restaurant relocated in a former pizza-centric joint decorated with leftovers from the ex-Union Bar & Grille. Reminds me of a cozy cottage with a mishmash of furniture and decorations. A true local.
Food quality has risen by leaps and bounds over the past few months. The best time to test that is Tuesdays when all food is half-price from 6 PM to midnight. Start with the grilled sausage sandwich, meat platter, pork ribs and chicken tenders, then work from there. And check out Groovy Schiller's growing Schnapps list.
Also look for manager Jack Zhou and frequent business partner Ah Jian to soon open a new place.
---
The new Heaven Supermarket was closed. It essentially moved from flush with Xindong Road to being in the B1 level of the building a few meters north. And has apparently run foul of fire safety rules. Given the number of restaurants and bars open in that building, my guess is Heaven will soon be back and serving up sloppy times.
---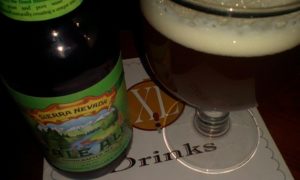 We popped into XL Bar & Restaurant to find a huge Christmas party in progress. Ya gotta love owner Jane Cui: she runs (literally) the bar, zipping back and forth to take or deliver orders, shouting out "love yous" to all and sunder, and often handling dozens of customers at once, with two floor staff helping out when necessary. Even at the busiest times, I've never received the wrong drink or an erroneous bill. Plus, the food is good.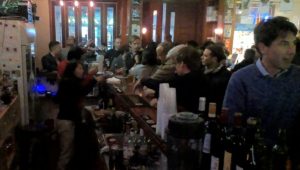 ---
Joe's Bar & Grill is a sweet addition to the Beijing bar scene. Crystal-clear screens at the bar, good beer prices (Beck's is currently rmb20 per pour), decent food and a friendly staff have inspired return visits. There are 10 seats at the bar, two rows of tables behind that and an upper level with more lounge-like seating. Love the toilets, too, with an extra lip on the urinal to keep splashers at bay. And "Wash your hands" and "Mom says so" posted on the door. Listen to mom.
Joe's is managed by Lisa Zhuang, who spent 17 years at The Den, then helped open the former D-One Sports Bar in the same building. D-One was a disaster but the owner, Joe, has flipped that script with this new spot. Given a heavy turnout out of Peru football supporters, complete with drums, for the recent World Cup qualifiers, expect that country to establish a base here for the main event.
Joe's is on Workers Stadium West, at the northeast corner of the main club strip, across the stream from Legend Beer.
---
We decided to give the other Heaven Supermarket a try and found it also closed. Holy cow! So, we went to Beer Bazaar next door for some Beiping Machine Factory brews. That wheat beer goes down easy, especially when sped along by a losing streak at liar's dice. Tip: never bid 11 6's when there are only 10 dice. The staff also gave us a sample of their fruity fresh house apple cider. Very nice.
---
With ten minutes to spare before closing, we popped into Ichikura for a quick one, but the owner stared us down and we slowly backed out. That was weird. We decided to walk back to Q Bar but by way of a pair of old haunts.
The first, now called fisher and closed at least this night, once used to be George's Bar before Zhou sold it and took over Q Bar. We spotted some weird Canadian in mourning on the steps.
The second, Fubar, once featured a hot dog shop out front and a speakeasy inside. Also closed. Word is this place is going through renovations. Anyway, the same Canadian, or perhaps his twin brother, was seen mourning there, too.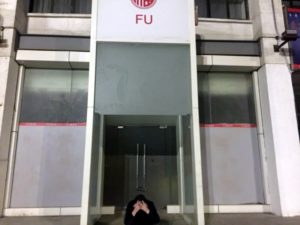 ---
With that, it was time for sustenance. The solid kind came in the form of stinky tofu from the corner of Sanlitun South and Workers Stadium South. Apparently, it is "Dongbei" style. The liquid sustenance came in the form of shot experiments. I eventually came up with the concoction below that I am 99 percent sure can guarantee us peace, prosperity and endless unicorn-level good times. I just need to sort through my hazy memories of last night for the recipe.
---
Check out 京B Daily for weather, pollution, news and other updates. Plus sibling blogs Grape Wall of China and World Baijiu Day.
Check out my lists of Beijing
food deals
 and
drink deals
. Also get updates via
Twitter
,
Instagram
and
Facebook
. And check out my sibling sites
Grape Wall of China
,
World Baijiu Day
 and
World Marselan Day
.  If this site helped you find new bars, restaurants, foods and drinks, or saved you money, consider helping to cover the hosting and other costs with a
WeChat
 or 
PayPal
donation.