The new First Floor is a sprawling something-for-everyone venue in Sanlitun Soho that now needs to attract that everyone. Last night, as on my first visit a few weeks ago, I found a sparse crowd despite the attractions of a live band, half-price food and plenty of sporting accoutrements.
You'll find 1F at the back of Sanlitun Soho, B1 level, beside cocktail bar Red Dog. It's a huge venue—it looks at least twice the size of the Tongli branch. And it's in a former darts bar that still features three traditional boards and seven electronic ones as well as two pool tables and a foosball table.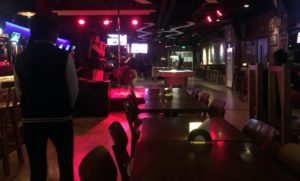 A keyboardist / saxophonist and two singers performed a few meters from the nearest dart board. That meant the plastic darts plunking a scoreboard provided an edgy off beat to the band's uninspired play list of Adele, Joan Jett, Styx and Starship. Lovely. No doubt, it's hard to get inspired when a place only has a dozen customers and none are watching. It's also likely hard to sing "Nothing's gonna stop us!" when you're thinking "Except an errant dart to the back of my head."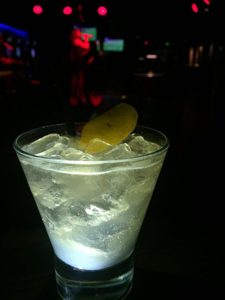 Let's get to the food and drink:
We ordered whisky sours 

(rmb40). They came with crushed ice, quickly became watery and tasted like cheap Bourbon.

We also ordered

nachos (rmb50) and chicken tenders (rmb45) from a vast menu.

We finished our cocktails before the food arrived and I joked that the slow service felt like a strategy to get us to buy another drink, ha ha. Turns out, someone forgot to put in our food order. Even though there were only a dozen customers and almost as many staff to look after them.

Given the extended wait, we ordered two 

Budweiser drafts. Guess what? They didn't have it. But they did have more expensive options.

We decided to forgo the drinks. The manager came over and suggested we get two Tsingtao instead. I declined. Then he upped the ante: two Tsingtao, "small ones", for free. I declined again.

The food finally arrived: the nachos and chicken tenders looked identical to those at Groovy Schiller's but were more expensive.

Yay.
If this review seems uninspired, then it accurately reflects my experience at 1F. No doubt this place has plenty of potential, particularly given the success of Tongli's 1F team. But from the drinks to the band to the service last night, it had all the charm of a broken electronic dart board.
Let's end on a positive note: on this visit, as on the last, they did at least show curling.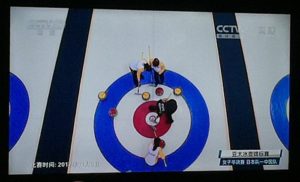 ---
Check out 京B Daily for weather, pollution, news and other updates. Plus sibling blogs Grape Wall of China and World Baijiu Day.
*     *     *
Get regular Beijing updates via my
Instagram
and
Twitter
feeds. Also see my sibling sites
Grape Wall of China
,
World Baijiu Day
 and
World Marselan Day
. Help cover the hosting and other costs of these sites with a
WeChat
,
AliPay
or
PayPal
donation.
*     *     *