By Jim Boyce | These is a difference between the best restaurant in Beijing and the best restaurant for Beijing. And rare are places that deserve both titles. A top candidate this past decade has been Spanish restaurant Migas, which will close its original Sanitun location after the New Year's Eve party next week.
(Migas Mercador in Guomao is unaffected. See Migas' post about the Sanlitun closing, and reasons for it, at this link.)
So ends a seven year-plus Sanlitun run for a Migas team that both strives for excellence and shares that mission with others. Migas has done this by organizing top-notch food and drink seminars for the trade, by establishing a food lab for several years, and by setting an example in terms of pairing quality and creativity. On top of that, Migas has ranked among the city's premier party spots, both via its spacious modern rooftop deck and its indoor bar one floor below.
The closing of the original Migas is sad but I'm grateful for years of good meals and good times. And to Mike Iannini and Barbara Mui for inviting me to a Migas pre-opening dinner in 2010. I was only mildly interested and they pushed me to go: they were right.
This place has meant more than tasty meals a.k.a. Migastronomy. I have also joined a Migas-organized trip to a seafood market and saw oyster sourcing first hand, attended seminars on everything from sausage-making to regional Spanish dishes, tried dozens of new wines and gins, visited a slaughterhouse on yet another field trip, spent a tasty night learning about Migas' Josper oven, participated in charity events, rooftop parties and wine dinners, and had a reliable place to take or recommend to both friends and visiting trade people. On a grand scale, Migas made the restaurant scene better. On a personal one, it did the same for me.
I've posted 40 photos of Migas below, preceded by a few examples of Migas in action. You can also check this link for info on the final Migas Sanlitun party.
Food. From high-value lunches to creative dinners, quality tends to be top-notch. That makes it a reliable place to take guests and recommend to others. Manager Eduardo Gutierrez once said the purpose of Migas' lunch isn't so much to make money—that's for dinners and rooftop parties—but to keep the team sharp by coming up with new weekly menus.
The butcher, the chef and the sausage maker. A trio from Spain created an assembly line to show the process from first cut to finished dish. Jean Pierre Castillo butchered the meat, Carlos Sanllehy used it make sausages and Angel Pascual included the links in several dishes that we all then tasted. Learning is fun.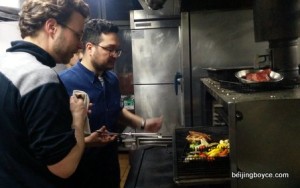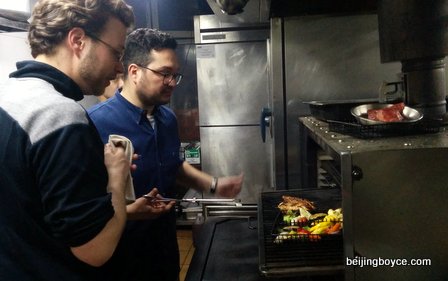 The Josper oven is an impressive piece of equipment that takes meats and veggies to the next level (see here). I got an intro to this oven courtesy of Gutierrez. Again, learning is fun.
My favorite brunch, the "El Asador", featured food carts circulating with sausage coils, beef slabs, roasted chickens and, for vegetarians, gin tonics. A meat lover's feast that also featured bread, tortilla, salad and dessert stations. More here.
Migas has invited customers to go shopping at local markets with its kitchen team. I've joined tours of a slaughterhouse in Hebei and Jingshen Seafood Market in Beijing. Visiting chef Carlos Tejedor attended the latter and managed a game of street chess.
Finally, Migas has backed Maovember, an annual charity mission I help to organize. Check out the Migas events here, here and here.
More photos below. And you still have ten days for a final visit to Migas Sanlitun! After that, it's Migas Mercador in Guomao.
---
Also, check out 京B Daily for weather, air quality, news and other updates. Plus sibling blogs Grape Wall of China and World Baijiu Day.
*     *     *
Get regular Beijing updates via my
Instagram
and
Twitter
feeds. Also see my sibling sites
Grape Wall of China
,
World Baijiu Day
 and
World Marselan Day
. Help cover the hosting and other costs of these sites with a
WeChat
,
AliPay
or
PayPal
donation.
*     *     *