By Jim Boyce | I cut through the Tongli Studio area of Sanlitun today and took some snaps of places that look nothing like they did a few months ago. I'll leave it up to you to decide if these are cases of Jekyll and Hyde—or vice versa.
The first is most recognizable: The Tree. This pizza and Belgian beer joint opened after precursor The Hidden Tree got razed on old Sanlitun South bar street about a dozen years ago. The view from the gates reveals a few missing components, namely, a front door and a roof.
A closer look reveals the pizza oven and a counter to be pretty much the only recognizable features. Given the handful of workers nearby, I wonder how much longer even those will remain.
Around the corner, the double doors are the only substantive clue that this was once The Smugglers. Late-night foodies will recall that Fish Nation was just a few meters to the left.
Across the street, the likes of Kai Club and Butterfly once inspired ribaldry into the wee hours of the morning. While those places are long gone, the facade has recently received extra beauty treatment.
This part of the Tongli Studio strip has fronted the likes of Poachers, Youth Club and MASH over the years although nothing now remains behind the facade. Just a cavernous space.
So cavernous that this backhoe looks like a toy.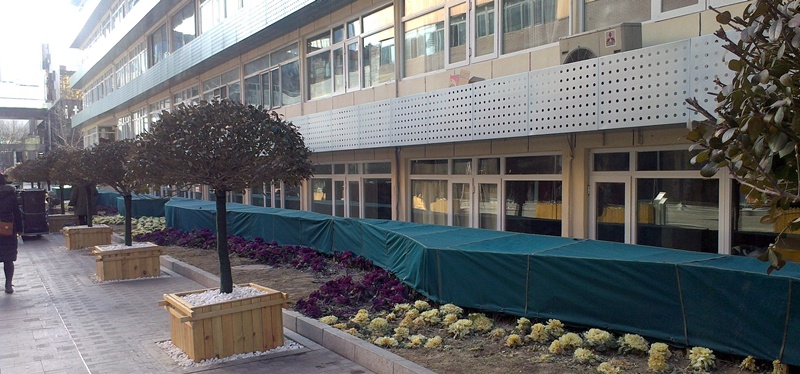 A bit further down is where classy places like Pure Girl and A Lil High once stood. Plus a noodle joint and other comfort food spots on the second floor. And a good DVD shop. This strip was also the target of high-profile drug raids just before the Olympics in 2008.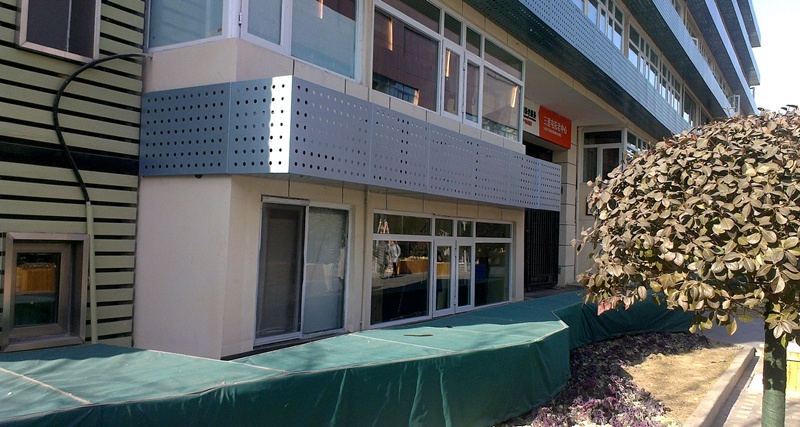 You'd never now this place, just opposite Swire Village South, used to be Luga's: Tex-Mex downstairs, Vietnamese upstairs. Before that, it was The Saddle.
Meanwhile, across the street, the patio is gone as are the Aperol spritzers, spotless toilets and crazy nights featuring most of the city's Italian chefs. You are missed, Aperitivo.
Finally, the former Migas, a bit further afoot, in Nali Patio. Six days ago, people were still visiting to buy ovens, fridges, glasses and plates. Today, the place is gutted. The walls between the restaurant and bar are gone, creating a massive space, and dozens, if not hundreds, of bags of debris litter the place. In less than a week, it has become unrecognizable as Migas, although the spirit lives on at Migas Mercado in Guomao.
That's a quick State of the Tun. If you were a fan of Tongli area nightlife, the situation is no doubt depressing, although some places do remain open, such as Luga's Villa, First Floor and Biteapitta. If, like me, you enjoyed spots such as Aperitivo and The Tree but gave a pass to the likes of Pure Girl, the feelings are more likely mixed. Whatever the case, it is astounding just how quickly this part of town changed.
---
Check out 京B Daily for weather, air quality, news and other updates. Plus sibling blogs Grape Wall of China and World Baijiu Day.
Check out my lists of Beijing
food deals
 and
drink deals
. Also get updates via
Twitter
,
Instagram
and
Facebook
. And check out my sibling sites
Grape Wall of China
,
World Baijiu Day
 and
World Marselan Day
.  If this site helped you find new bars, restaurants, foods and drinks, or saved you money, consider helping to cover the hosting and other costs with a
WeChat
 or 
PayPal
donation.