By Jim Boyce | While this site focuses on Beijing booze and chow, it has a special place in its heart for WE Brewery in Tianjin, due to plenty of fun times with owner Steve Wang and his support of World Baijiu Day and Maovember. WE turns two today so I asked Wang a few things about his place.
Q: You first tried craft beer when you went to the United States to attend university. How did it happen?
A: Well, it's a long story. During my freshman year, I was the only Chinese student in the university. Our psychology professor's wife was also Chinese, so of course I got invited to their home for dinner. I was old enough to legally drink alcohol in the U.S., so he offered me some of his home brew. I was amazed that anyone could make beer at home. I always thought beer was only made in factories.
After that, I started to drink craft beers and really got hooked. A few years later, my wife brought me a home brewing kit, kind of a toy, for my birthday. I made my first batch and it was totally crap. Then I went to the local brewing supply shop and got myself some proper home brew equipment. I guess that's how things started. I did home brew, then an apprenticeship at a microbrewery, then part-time work in the brewery, and then started my own place. This is the tenth year of my brewing journey.
Q: What was the hardest part of starting a brewery?
A: I think the hardest part was to decide to change my lifestyle. From high-paid global corporate job to doing dirty physical labor is a big shift. Even now, I still keep my side job going. But when I see people are happy and enjoying our establishment, that's the best feeling.
From a technical standpoint, getting all the licenses and managing the relationship with the landlord are the biggest challenges. Also, since we are in a small alley, we always need to worry about the neighbors.
Q: You've been to craft breweries all over China? How does the Tianjin market compare?
A: Everywhere I go, I always try to find the local craft beer places. And every country and city has its own characteristics. I guess that's the beauty of craft beer: you always want to find something unique and you always do.
Tianjin is my hometown—I want to make something special for my city. Sure, the overall market here cannot compare with Beijing or Shanghai. But I do believe by providing consistent quality and service, people in Tianjin will understand what we do.
Q: You guys also have food.
A: We do have some foods that pair perfectly with our beers. The menu is based on recipes I have picked up. I used cook a lot when I was in the U.S.
We have three kinds of burgers, fish  and chips, and some Mexican-inspired foods like quesadillas, tacos and nachos. Since I spent a long time in the southern U.S., we recently added some items from that region as well.
All of the food is made from scratch, even the sauces. I love authenticity and that's what I want to offer my guests.
Q: For World Baijiu Day, you did baijiu-infused floats for your beers. What kinds of flavors did you use?
A: We used 67-degree "Qing Xiang Xing" baijiu for the base. We made two batches, one with cranberry and one with dry smoked dark plums, the kind used in traditional Chinese medicine.
We paired the cranberry with our "Blonde" golden ale, which is crispy and malty. It was perfect with that cranberry tang. For the smoked dark plum infusion, we used our "Late Breakfast" stout, an oatmeal milk stout that is very silky, creamy, and chocolaty. The smoky earthy flavors from the dark plum made this a unique and addictive pairing.
Q: Say I'm a first-timer at WE Brewery and pretty new to craft beer. What beers would you recommend?
A: We have eight different beers on tap and rotate them frequently. Our staff is super friendly: don't be shy, just tell them what you like, and I'm sure they will give some good suggestions. Our "Broken Compass IPA" is our best seller.
Q: Finally, any special activities for the birthday party?
A:We want to take this special moment to thank the community for all of its support. It's a joint effort and everyone is like a big family. We will have hourly lucky draws from 8 PM until we close at 2 AM. And for those who show up with WE Brewery gear, like our T-shirts or scarves, you will get happy hour prices—25 rmb per glass—all night long!
Note: Get a map of WE here. You can contact the brew pub at 18630-888-114.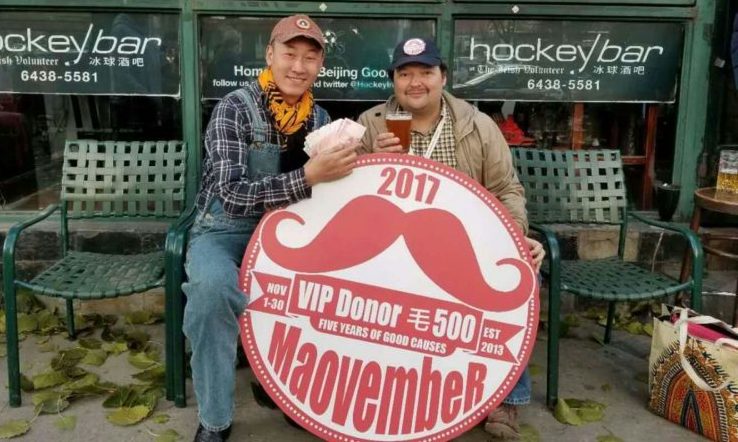 ---
Check out 京B Daily for weather, air quality, news and other updates. Plus sibling blogs Grape Wall of China and World Baijiu Day.
*     *     *
Get regular Beijing updates via my
Instagram
and
Twitter
feeds. Also see my sibling sites
Grape Wall of China
,
World Baijiu Day
 and
World Marselan Day
. Help cover the hosting and other costs of these sites with a
WeChat
,
AliPay
or
PayPal
donation.
*     *     *