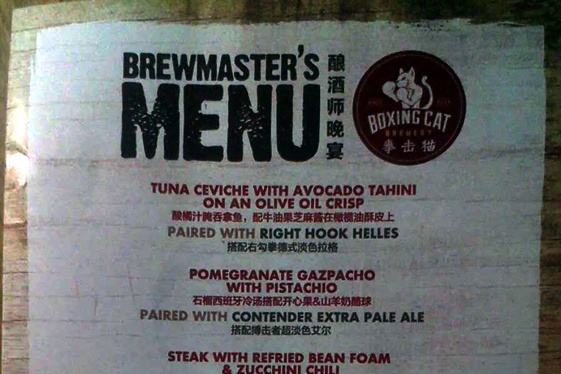 By Jim Boyce | Before I get to the dishes and drinks at last night's Boxing Cat-Q Mex Taqueria brewmaster's dinner and boozefest, two quick notes.
Boxing Cat will soon open its new venue, near Q Mex Taqueria. This is a follow-up to that three-month pop-up late last year in 1949: The Hidden City.
A sibling to the original Q Mex in Sanlitun South will also soon open, in Shuangjing. Hopefully, it will have the same weekly burrito, nachos et al specials.
Anyway, people got pretty wrecked at last night's brewer's dinner. That's no shocker given the first five courses each came with a bottle or pint of Boxing Cat beer per person, followed by dessert and Bourbon barrel-aged stout. Not complaining—I'm a fan of Boxing Cat beer and Q Mex food!—just observing. And I did appreciate the invite and chance to sit with Q Mex co-owner Stefan Schober and bon vivant / This Is Sanlitun star Carlos Ottery.
Let's party. (And sorry about the photos.)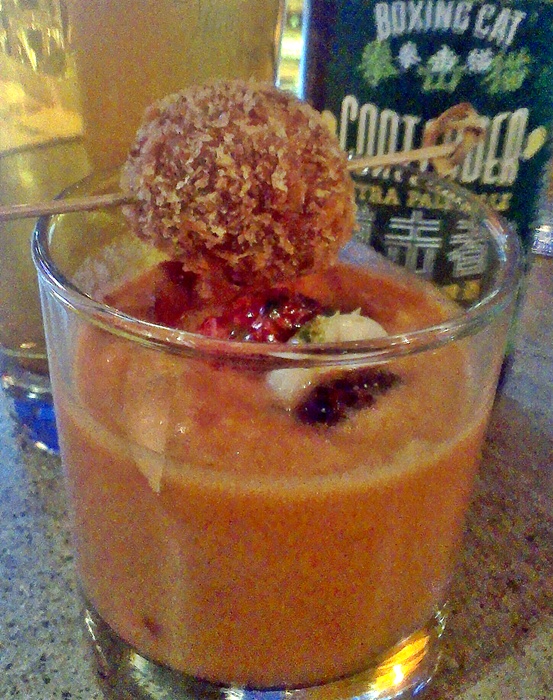 Favorite dish: pomegranate gazpacho. It came with a pistachio-encrusted goat's cheese garnish I would eat on an daily hourly basis. The ingredient mix—berries, sweet garlic, Prosciutto, more—went well with the zing in Boxing Cat's Contender Extra Pale Ale. Best part: the crunchy pistachio fragments at the bottom of the gazpacho. This and the rest of the menu were prepared under the direction of head chef Marcus Medina.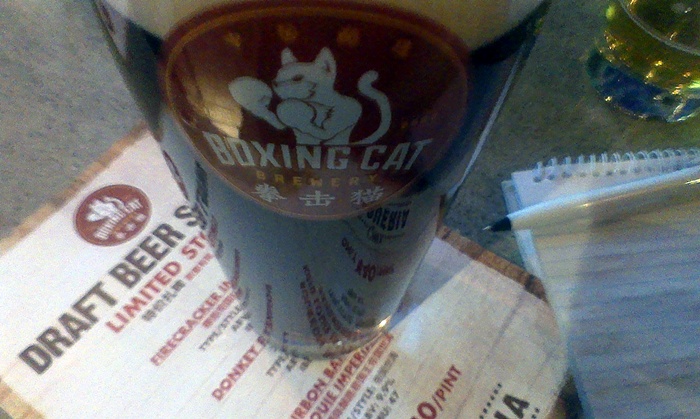 Favorite beer: Donkey Punch Porter. Delicious layers of flavor: cocoa, coffee, malt, spice, more. Boxing Cat's chief brew master Michael Jordan was on hand to cover the beers.
Beyond the favorites: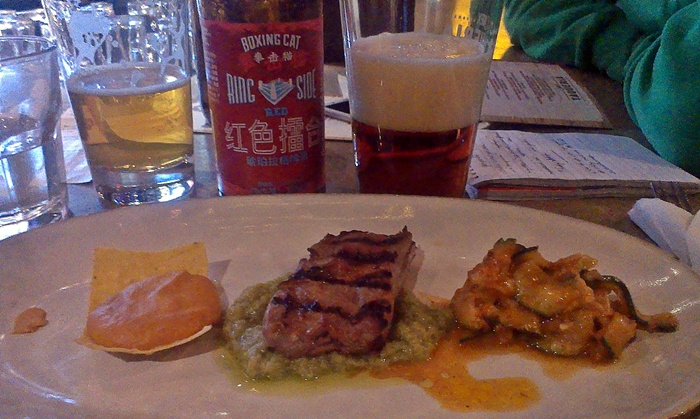 Steak with refried bean "foam": The rich smooth beans to the left were the winner on this plate. The meat was tough to cut, and a bit too chewy, although its smoky flavor went well with the malty notes of the Firecracker Imperial Red.
Speaking of beer and food pairing, Ottery questioned the entire concept. Does it matter whether you pair the bean foam with lager or stout? What's the scientific basis for it? Who makes sure the process is carried out fairly? And who watches the watchers?
Tough questions. I would begin by suggesting that a vast majority of, say, hot dog connoisseurs would agree mustard is a preferable topping to strawberry jam, that is, some flavors work better together than others. That the same goes with particular foods and beers. And that exploring those pairings at a dinner is a good way to see what works, have fun and get drunk. Ottery still seemed doubtful, much like Gary, the lead character he played in This Is Sanlitun, did about his prospects for staying in China.
Cod fish with tomatillo fideo: Hmm. The subtle delicious flavors of the fish were at odds with the brawl on the other side of the plate, one that featured cedar sprouts, pumpkin seeds and aged Gouda. Word is this ranked among the favorite dishes of the night.
Goat rib chili Colorado on tamale: Meat falling off the bone, a pleasant mild spice, a nice crunchy texture due to those tiny carrot morsels, a… I was starting to feel the beer at this point. Let's just rank that dish as pretty good. But one thing I did like through the entire menu was the attention to texture, such as the crunchiness provided in the dishes by a bit of crushed pistachios or pumpkin seeds or carrot bits.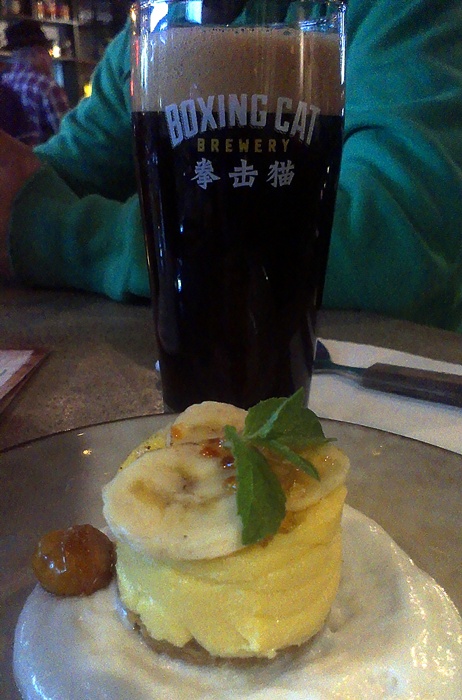 Finally, dessert is my least favorite course. Especially if it includes bananas. Which made the banana cream pudding with macadamia and coconut foam a tasty surprise. Those candied macadamia nuts should be packaged and sold on their own. 
All in all a fun night of beer, food and talk. For those interested, I've posted the menu below. And if you'd like read about another fun dinner created by Medina, click here.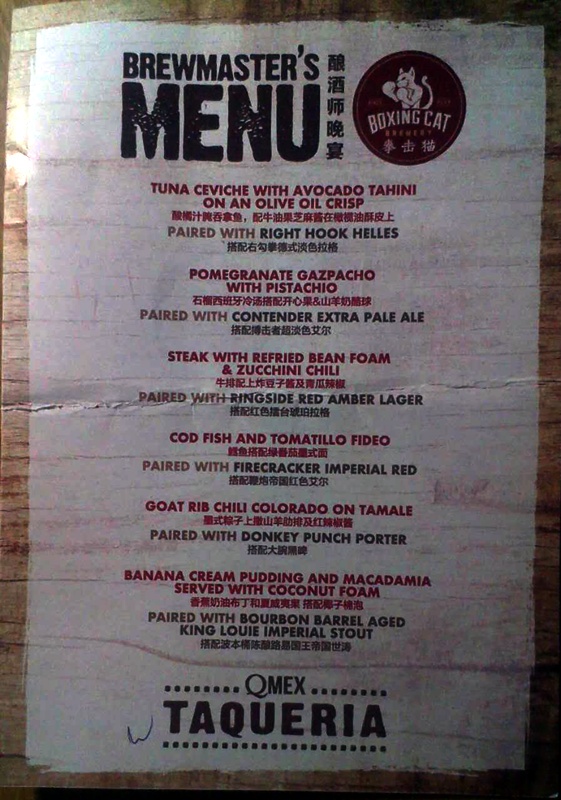 ---
Check out 京B Daily for weather, air quality, news and other updates. Plus sibling blogs Grape Wall of China and World Baijiu Day.
*     *     *
Get regular Beijing updates via my
Instagram
and
Twitter
feeds. Also see my sibling sites
Grape Wall of China
,
World Baijiu Day
 and
World Marselan Day
. Help cover the hosting and other costs of these sites with a
WeChat
,
AliPay
or
PayPal
donation.
*     *     *