By Jim Boyce | We've seen a wave of bar and restaurant closings in Beijing this past year as the city "cleaned up" but the opposite force was in motion a decade ago. We were then on the verge of an unprecedented opening spree as the city ramped up for the Olympics.
Anyone who lived through that period will remember places like Maison Boulud, Blue Frog, Makoto, China Doll 2.0, Let's Burger, Mosto, Klubb Rouge, Mesh, Enoteca / Enoterra, Second Floor, Saddle Cantina, Drei Kronen, Punk, Duck de China, Glen Bar, All-Star, Taverna, Noodle Bar, Bling and Tun, among many others, popping up.
I've reprinted below my Beijing Boyce e-newsletter from March 2008, which covers some openings from that era. (Note: I cut out some irrelevant text and added a few images.)
---

BEIJING BOYCE #46
OPENING SHOTS: This issue focuses on a handful of restaurant and bar projects in the Beijing pipeline. Whether they hit their opening dates is anyone's guess, but the info below about The Legation Quarter, the new China Doll, the Nali Patio and 1949: The Hidden City complexes and blue frog gives an idea of what the owners have in mind. | Also, a sign for Buffalo Restaurant has appeared at the Gongti East driveway to The Bank and Jasmine. Does anyone know if this is the same outfit with billboards last year that proclaimed "Shangri-la is in your mind, but your buffalo is not", among other brain-teasers? | The Pomegranate joins the pizza ranks with its wood-fired oven. Pies start at RMB40. Speaking of which, management says it will launch a family-oriented venue called Blue Mango in Shunyi next week. | Q Bar now has a shiny new kitchen. Expect snacks to soon show up on the menu. Also expect Q Bar's deck to expand. / The Rickshaw cook Sabrina, who made many a burrito for this city's punters, has returned to her native country, The Philippines. | According to China Daily and Xinhua, six establishments on the grounds of Workers' Stadium, which will host Olympic soccer matches, have been red-carded. Mix, Vics and others at the north gate will apparently close for 20 days up to and during the Games.
COMING SOON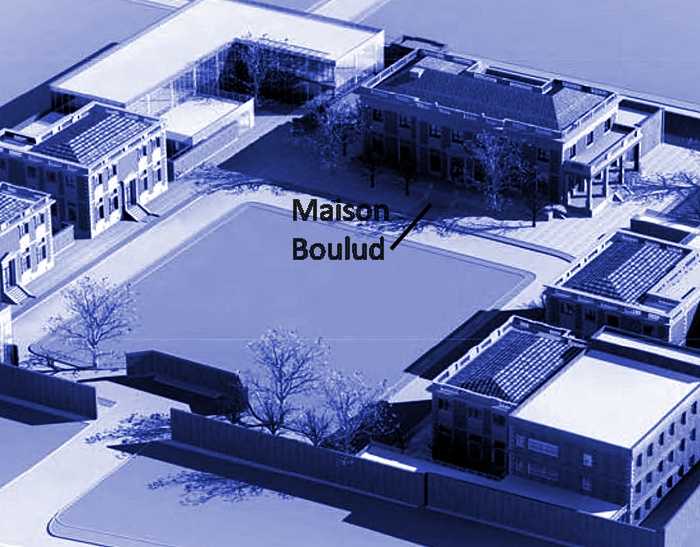 The Legation Quarter: Ex-U.S. Embassy Turned Food Haven
The Legation Quarter [now known as Qianmen 23], the most anticipated food and beverage project in this city, was first scheduled to open more than a year ago. I toured the grounds a few weeks ago and ran into the man most associated with the project, Handel Lee (Three on the Bund, The Courtyard, RBL), who showed me several buildings before marketing director Lulu Liu took over. Word is that some venues will open in mid-May (see below).
The Legation Quarter is big and, in many ways, beautiful, so in the words of BEP, "Let's get it started."
Like many Lee projects, this venue is laden with history. According to the company brochure, five of Legation Quarter's buildings date from 1903 and were built to house the U.S. Embassy during the waning years of the Qing Dynasty. The 170,000-square-foot space later served as the Dalai Lama's residence, a state guest house, and the Ministry of Foreign Affairs offices. Additional buildings and an underground space have been added to house a club, a bar, and other establishments.
A lineup of key projects.
Projected opening: mid-May
—Maison Boulud, "a French concept restaurant by award-winning chef Daniel Boulud from New York." The ground floor includes a bar, lounge and main dining room; the second floor, accessible by two staircases, holds smaller dining rooms.
—Legation Center for the Arts will host exhibitions, film programs and lectures. The rooftop offers good views of the old post office, train station and Tiananmen.
Projected opening: mid-June
—Mission, a 1400-square-meter nightclub portion, with a lounge, VIP rooms and deck space. Lee says a New York-London outfit is handling the project. The brochure says Mission "is sure to blaze a trail across the sky of Beijing's nightlife". (Let's hope they have fire extinguishers.)
—Teatro, an Italian restaurant. This building will include a wine cellar and a shop that sells bread, cheese, olive oil, and other goods. [Sadler ultimately opened here.]
Projected opening: mid-July
—Shiro Matsu, a Japanese restaurant.
—Tian Di Yi Jian, a Chinese restaurant "embedded" in a furniture showroom.
The Legation Quarter will also include a 650-square-meter underground theater [now Blue Note].
This project is ambitious and, given the delays, obviously not an easy one to complete. I have no idea about the rent, but large expatriate kitchen staffs do not come cheap. Maison Boulud seems especially promising as it could become a must-visit for U.S. business and government delegations, among others. The Legation Quarter has potential for event launches, weddings, and so on. It's hard to say how many people will come for, say, Italian or Japanese food, but I guess individual vendors will shoulder at least some of the responsibility of bringing in patrons.
COMING SOON
The New China Doll: A Bigger House in 3.3
When China Doll opened in Tongli Studio just over a year ago, I quickly associated it with several things: 1) cozy seats and subtle lighting versus the excessive neon that plagues other places; 2) an excellent four-sided padded bar manned by an efficient staff; 3) a looping (to some) erotic video that rapidly got old; 4) a diverse clientele of locals and expatriates; and 5) a spirit that seemed like it would quickly outgrow the venue's tight confines.
A split between owners last fall saw the creative side, Ai Wan, leave. She is now part of a team set to reopen in new digs in mid-May on the fifth floor of the nearby 3.3 building. (The north face already sports the China Doll banner.) The space is bigger—much bigger—with more than 1200 square meters inside, including an open area of 850 square meters, and an additional 400 square meters of rooftop.
China Doll will include a lounge, a compact dance floor fringed by two levels of seating, seven VIP rooms and a VIP lounge. Patrons will access the club via two elevators at the back of 3.3.
The slogan is "Sexy–Hip–Cool" and management says there will be a focus on promoting art and culture. The strategy is to start drawing patrons into the lounge from afternoon on. Ryan Horne, from the Los Angeles clubbing scene, is managing the place.
Ai Wan brings a loyal following from the original venue, a successful track record, and strong contacts and creative design ideas. The downside of opening in a mall is somewhat offset by the private elevators. The big question is whether enough people can be drawn to 3.3 to regularly fill this massive space. Well, that and the status of the still-operating original venue—will both places promote themselves as China Doll?
COMING SOON
Nali Patio: Saddle, Project H2O
The new Nali Patio, that glaringly white structure beside the 3.3 building on Sanlitun North's main strip, features four sections that range in height from two to six stories. Over the next few months, expect to see a steady stream of restaurant, bar, and retail outlet openings, with the latter including—hold your breath, cast iron cookware fans—household goods outfit Pantry Magic.
In terms of food and beverage, the three key projects appear to be Italian restaurant Ciro's Pomodoro [now home to Moka Bros], which opened last month, The Saddle Cantina (by the owners of The Rickshaw), and Project H20 (by the owners of Spencer Grey, which also runs Alfa, Muse and Mission).
The Saddle Cantina, a two-story building on the west side, is slated to open on March 15. The facade, deck, and interior are quickly being finished, with the goal of a hacienda look. "When you walk in, you will know it's a Mexican restaurant," says manager Chad Lager, who gave me a tour.
The first floor includes a bar, booths, a room reminiscent of The Rickshaw, and a glass-walled area to showcase the copper brewing tanks in which The Saddle will make its own beer.
The second floor includes a long bar, an area with high tables and chairs, a series of tables near the window, a retractable roof, and a narrow 200-square-meter deck.
Nick Ma, the man behind the menu, has been doing giving taste tests of the planned Mexican dishes to patrons at Rickshaw. The Saddle will also have the biggest tequila selection in China and an extensive Margarita selection, says Lager. Unlike The Rickshaw, it will neither be festooned with TV screens nor will operate 24/7.
The owners have gained experience and a sizable following via previous projects The Rickshaw, COX, and The Saddle, and the new Saddle seems part of a natural progression for an outfit that delivers unpretentious venues with solid comfort food and a diverse group of patrons, including many from the food and beverage industry.
Project H20 (until recently, Migas), comprising the sixth floor and a 500-square-meter deck on the studio's east side, will include an Asian tapas lounge and a French-Chinese restaurant on the main floor, and a grill up top. Two bartenders and several chefs have been or are being brought on board to handle drinks and food respectively. The deck offers what is arguably the best 360-degree rooftop view in the city.
The plan to soft launch in January is a distant memory. According to Blane Kieng of Spencer Grey, renovations of the building took longer than expected: "There really was no point in being the first to open if everyone else in the building is still jack-hammering away," he said.
There has been some turnover at Spencer Grey of late in areas such as management, the kitchen and PR. Kieng states that some people didn't fit Spencer Grey's needs and that more people are coming in. Let's hope these changes don't impact the planning or quality of the venues.
COMING SOON
1949: The Hidden City: Out in the Open
In a city where some high-end venues seem intent on blinging each other out, The Hidden City, a project by Elite Concepts, is refreshing for being reserved. Just south of the Pacific Century building and east of Revelations (ex-Browns), this complex of about a dozen buildings will include bars, restaurants, a coffee house, an art gallery and a private club. Red bricks walls, oak plank floors, ceiling beams, ample paths, green areas, and plenty of trees suggest a relaxed getaway in the heart of the city— which I guess explains the "hidden" in its name.
Most buildings are new—the striking exception is a refurbished two-story factory / warehouse that will hold 1/5 lounge bar—though they evoke a slower-paced era. 1949's Eva Lipman gave me a tour of the place last week. Here are the key venues:
—Duck de Chine, a Beijing duck restaurant split into two narrow rustic buildings of 200 square meters separated by a green space and a glassed area that displays the roasting ovens. One room will include a Bollinger Champagne bar.
—Noodle Bar, a cozy spot that seats about 12 at its counters.
—Well Bar, an outdoor four-meter-wide well in which a waist-deep floor has been installed. The plan is for the bartenders to work in the well (let's hope that flooring is secure!), patrons to sit around it, and the house brew "1949" to flow.
—Sugar [now Jing-A Taproom], a coffee and dessert house.
—1/5 restaurant, a large space with an open kitchen, "comfort food", and a slanted roof that peaks at about 10 meters and allows in natural light.
—1/5 lounge, with a four-sided bar on the first floor and VIP rooms upstairs [it later housed Okra, then Boxing Cat]. Lipman says the music will have an "old school" theme (think classic rock).
There will also be a private club.
What strikes me about 1949: The Hidden City is its cohesiveness and modesty. The earthy tones, the beams, the green space, and the understated décor and furnishings. The construction materials seem frugal—in the sense of being practical rather than cheap—and contribute to the unassuming atmosphere. Let's hope the final product carries this same air. The question with such multi-establishment projects is whether they can fashion success from the sum of their parts. For now, the answer is—and yes, this is a horribly cheesy way to end—hidden.
COMING SOON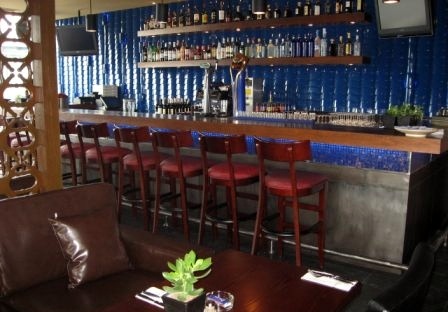 Blue Frog: Hopping into Town
Bob Boyce (no relation), the Shanghai entrepreneur involved in the Blue Frog and KABB chains, will expand to Beijing. I interviewed him about his plans.
Boyce (Jim): There have been rumors of Blue Frog coming to Beijing for years. Why now?
Boyce (Bob): We actually had plans to open last year but the projects we are located in were both delayed. I've wanted to have a blue frog presence in Beijing for a long time but until recently it was tough to find good space. There are some great new buildings and developments opening up right now and we are looking forward to being a part of them. I personally love Beijing and can't wait to be able to spend more time there.
Where will the Blue Frogs be, when are the openings and what can patrons expect?
We will open two new Blue Frogs in the next several months. One will be in the new Sanlitun project and the other will be in Europlaza out in Shunyi. We should be open in the last part of May or early part of June for both locations.
Our Sanlitun Blue Frog will have about 100 seats and will be casual but sophisticated. It will be warm and inviting but also contemporary and hip. There will be a bar and a restaurant together. The goal is to have a place where people let their hair down. It will have a great late night vibe as well as a lot of outdoor space for relaxed weekend brunches.
The Europlaza Blue Frog will be more family oriented and have plenty of space for kids as well as areas for big groups of families and friends. We will focus on creating and maintaining a relaxed, fun community gathering place.
People bringing concepts and franchises to Beijing have struggled over the past few years—Capone's, RBL, Trader Vic's and others closed. What makes you think Blue Frog will work in Beijing?
Blue Frog is a business born in China and we are really proud of that fact. We spend a lot of time getting to know our customers and building a sense of community in our places. That sense of community is what brings people back. In Beijing we plan on being fully engaged with our customers and with the neighborhoods we are located in.
You lived in Beijing in the mid-90s. How does the restaurant and bar scene compare then and now?
I studied Chinese at Beijing second Foreign Language University (Er Wei) in 1994, so my roots are in Beijing. At the time there were not a lot of options for Western food and drink. We used to have to travel a couple of hours by bus to get to the McDonald's in Wangfujing. Sanlitun was full of flower and frame shops, and Poachers Inn and the disco at the Kunlun Hotel were the only games in town. Those of your readers who remember those days are probably a little misty-eyed right now because they were fun times.
Now, Beijing is a really sophisticated international city with a lot of options for food, drink and entertainment. Beijingers have a great deal of choice and the market is competitive.
GRAPE WALL
Posts from My Sibling Site
Imports of wine to China are booming, a Chinese company has bought a chateau in Bordeaux, and Hong Kong dropped its wine taxes. It's been a wild year so far. I've been busy of late interviewing people about China's wine scene. The three most recent:
Jancis Robinson: I sat down for a quick interview with Robinson last night at Flow Lounge & Bar in Swissotel Beijing. Besides having a popular Web site, Robinson writes a weekly column for The Financial Times, edits The Oxford Companion to Wine and, with Hugh Johnson, wrote The World Atlas of Wine. We talked about her visits to China and thoughts on Chinese wine. See the interview here.
John Gai: A former China country manager for Zonin wines, Gai started Beijing-based distributor Palette Wines in 2002 and retail-oriented Palette Vino in 2005. I talked to him about how he got into wine, what inspired him to start his companies, and where he sees the Beijing and China wine scenes heading. See the interview here.
Ethan Perk: Deputy general manager of Jebsen Fine Wines, Perk has been in China's wine sector for six years. I asked him about the wine scene in different regions of China, reaching local consumers, trends in wine consumption, and more. See the interview here.
CLOSING SHOTS
The Haiku Challenge was so much fun that I'm starting a second contest: Celebrity Pub Crawl. The idea: each week I post a photo of a movie character or two and readers propose which bar (or bars) they'd take him, her, or them to. List your bar suggestion—and a short explanation for that choice—in the comments section on my blog, and you'll be entered into a weekly draw for:
—A bottle of Grace Vineyard Tasya's Reserve Cabernet Franc from Torres
—A copy of 1) Insider's Guide to Beijing 2008, 2) Mandarin Phrasebook, 3) Healthy Chinese Cuisine: A Restaurant Ordering Guide, and 4) Spicy Chinese Cuisine: A Restaurant Ordering Guide, all from Immersion Guides.
I will post a new celebrity photo every Thursday. The deadline for entering the draw is the following Tuesday at noon. The winner will be announced the next day. First up: Crockett and Tubbs from Miami Vice (the TV show, not the movie).
(Frankly, I'd take them to BabyFace and somehow get their Ferrari Daytona Spider inside so they can smash it through the glass facade, do a 360 on Gongti West, tear up the Pavillion patio, and then race off, all while Tubbs casually reclines in the front seat with a bottle of Chivas in one hand and a bottle of green tea in the other. Then we'd cruise down Sanlitun North so they can rough up some "lady bar" touts.)
Finally, and as usual, if you like this newsletter—or Chivas, green tea, Miami Vice, wine, books, or lady bar touts—please pass it on. Anyone can join the mailing list by sending a message to beijingboyce@yahoo.com with "sign me up" in the subject line. As always, eat, drink and be merry. Cheers, BB
---
Check out 京B Daily for weather, air quality, news and other updates. Plus sibling blogs Grape Wall of China and World Baijiu Day.
*     *     *
Get regular Beijing updates via my
Instagram
and
Twitter
feeds. Also see my sibling sites
Grape Wall of China
,
World Baijiu Day
 and
World Marselan Day
. Help cover the hosting and other costs of these sites with a
WeChat
,
AliPay
or
PayPal
donation.
*     *     *