By Jim Boyce | The Olympics began a decade ago today. After seven years of hesitation, frustration and anticipation, Beijing was hours from the opening ceremony. Would it rain during those painstakingly practiced performances? Would the tourists and athletes be safe, the stadiums and subways up to snuff, the pollution light enough to prevent event cancellations? Would the One World, One Dream theme inspire a global harmonious society?
More relevant to my blog: would rumors of regular passport checks, 2 AM curfews and widespread bar closings become reality and create a "no-fun Olympics" as some reporters suggested? And just how many scorpion on a stick stories would those scribes scribble? Ten? Twenty? Eighty-eight?
With the Olympics finally in motion, those questions would get answers and, after sitting in the starting blocks so long, we were now in the race to find them. No doubt, there were serious concerns surrounding the Games, from stricter visas to over-the-top security to unrest beyond Beijing. But most people I know ultimately found the events themselves to be impressive–and fun.
I had moved to Beijing four years earlier partly for this once-in-a-lifetime chance to witness the preparation and launch of what was often called China's "coming out party." And I count those two weeks in August among my most thrilling. Here are just ten things I vividly remember.
---
The Flame
During the opening ceremony, I toured over two dozen bars and restaurants, catching glimpses of performances on screens here and there. I took notes while Nicolas Carre, a Beijing sommelier, took photos. We started at Paddy O'Shea's at 8 PM and finished at Bed Bar at 2 AM, making our way through Sanlitun, Workers Stadium, The Place, Houhai and Nanluguoxiang.
We were in the former Salud, packed with people from a dozen nations, when China's 1984 Olympic medalist Li Ning made his "flight" around the Bird's Nest with the torch. When he lit the cauldron, Salud went up in cheers. People shouted and jumped and hugged and cried, many doing all four simultaneously. It felt like we had suddenly reached the end of a seemingly endless journey: the Games were on.
(See here for the full bar crawl, including long gone places like A-Che, China Doll, Rickshaw, Klubb Rouge, 12SQM and Le Bais des Anges, and those still here, like Mesh, Blue Frog and Little Saigon.)
---
The Beach
The next day, I got three tickets to beach volleyball–thanks Frederick Choux in Dalian!–and headed to Chaoyang Park with Mike Wester and Steven Schwankert. We watched exciting spikes, blocks and rallies, tempered by the reality check that Russia had just invaded Georgia and both countries were in the tournament.
Swimsuit-clad cheerleaders and inflatable Fuwa mascots danced between points, hilariously bouncing into each other. The beer carried a "People's Olympics" price of five kuai. And the crowd, after it settled down–many were newcomers to stadiums and unaware that tickets corresponded to seat numbers and engaged in a major game of musical chairs–went old school with "the wave".
Experiencing all that as Chinese grandparents held grandchildren in their laps and bounced them to "Pretty Fly (For a White Guy)", "Blitzkrieg Bop" and "Minnie the Moocher", well, I won't forget it.
After, I walked to French restaurant Maxim's at Solana and met Pierre Cardin. I thought about asking him to bounce me in his lap to the same songs but a) he was 86 years old, b) I'm big-boned, c) he was busy drinking wine with VIPs, and d) I didn't have the music handy.
---
The Fuwa
Originally known as The Friendlies, these five mascots jumped, rolled and bounced, including off one another. While I originally thought them a bit ridiculous, they provided much hilarity and were a highlight of the Olympics. I often wonder: where are they now?
---
The 'Real' Beijing
Some expatriates felt Olympic visitors would miss the "real Beijing" and instead find a sanitized city where the air had that new car smell, the cars themselves moved like clockwork, and citizens were as refined as English chauffeurs, that is, chauffeurs following CCP directives.
China did what it does best: hardware. From spiffy stadiums to speedy subways, we saw lots of new brick and mortar. But there were also blemishes.
The air was still dodgy. The traffic, while lighter, clearly showed the "might is right" and "pedestrian last" principles of local motorists. And minor annoyances abounded: every fifth taxi driver sported a bad attitude, every other person tried to enter the elevator before the people inside could exit, there was no shortage of loogies.
One day, I spent an hour walking around Workers Stadium and recorded what I saw, namely, business as usual, from drivers nearly running down pedestrians to multiple helmet-less riders on a single scooter to a topless man sponging himself from a water basin. Read that post here.
---
The Phelps Factor
The one evening during the Olympics that I got home before midnight, Mark Duval, then co-owner of China Doll, called and said, "Michael Phelps is coming over."
China Doll, atop Sanlitun's 3.3 Building, was celebrity central during the Games, everyone from Usain Bolt to Quincy Jones to Evander Holyfield ended up there. Anyway, I ended up at the bar with Duval when Phelps, fresh off winning his eighth swimming gold, walked up to get a drink—Jack and Coke, if memory serves. The topic of cigars arose. Phelps hadn't had one for years. Duval procured a stogie—I believe from a stall near Tongli Studio—and the planet's most decorated Olympian, looking all the world like a summer intern, puffed away.
Dirk Nowitzki of the Dallas Mavericks and the German basketball team then showed up. Phelps stared in awe, then said "He's a star", strode up and hugged Nowitzki, and periodically yelled "Dirk in the house!" the rest of the night. I doubt I will ever witness such a mix of fame and innocence again.
(Soon after, Phelps would be filmed stateside smoking something far more controversial. And China Doll would soon close, but not before the club's owners added ramps and other modifications for some awesome parties for the Paralympics immediately after the Olympics.)
---
The Ghana Flag
Because I had two house mates from Ghana during my school days, and cheer for their football team, I decided to break out my flag from that country for the Games, take photos of it in various stadiums, and email them abroad.
Best of all was when I took that flag to Sanlitun. Tourists from Africa, and elsewhere, approached to ask about it and, hearing my story, often ended up buying me a drink. Who knew a small investment in Ghana flags would turn into so many cocktails and beers!
---
The Cazes
Wine legend and Lynch-Bages owner Jean-Michel Cazes, in town for the Olympics, cold-called me after spotting my then relatively new sibling blog Grape Wall of China. At first I thought someone was playing a trick, but once convinced it really was him, we met at the St. Regis and I gave him a bottle of Xinjiang wine. Not only was the man who produced that wine, Johnny Chan, one of his friends, but the spouses of Cazes and Chan were having drinks in the next room.
It was one of those "it's a small world" moments. And also a sign that I would soon be spending more and more time focused on Chinese wine. By the way, Cazes pulled off the most impressive Olympic double by catching the U.S.-Brazil volleyball finals and then racing across town to see the US-Spain basketball finals on the same night.
---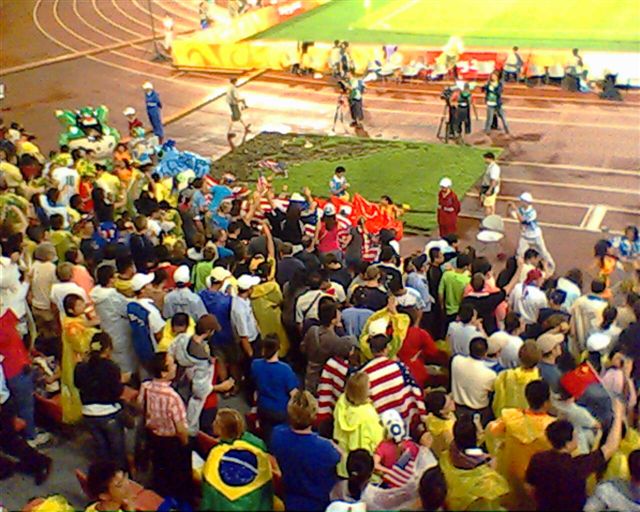 The Games
Getting an upper deck, front row, midfield seat for the women's football final between the United States and Brazil–a gritty affair–for just rmb500 five minutes before the game? Nice. Added bonus: having room on the concrete platform in front of our seats for a flat of 24 beers at rmb5 a pop. That game and beach volleyball were my sports highlights, although I also went to field hockey, boxing, rowing, baseball and more. Then again, I had a nice source of tickets…
---
The Den
The sorely missed 24-hour bar and restaurant known as The Den served as a home for numerous visiting scalpers. While wolfing down a full English breakfast to regain strength from a big night out, one could watch them endlessly work the phones and thumb piles of tickets. Given their lack of knowledge of Beijing, tips on where to get a decent haircut or a laptop repaired were repaid in the form of dog-eared, but still legitimate, tickets. I got about half of my tickets from those guys.
As for The Den, it also got into the Olympics spirit, as befits a place that set up a DIY dumpling stand for foreigners during Chinese New Year. The place re-branded as The DenMark and became a home for Danes during the Games. And it made some creative attempts at Olympic-themed food. It's not often you see mashed potatoes and gravy modeled into an approximation of the Olympic rings.
---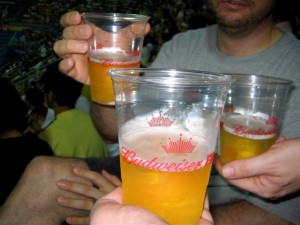 Beijing
It's among the most "duh" things to note that Beijing is constantly changing. But the Olympics truly felt like a watershed. In a few years, we went from getting excited over the arrival of draft Stella to being spoiled by bars with more than 100 beer options. From a subway system that one could draw from memory to an ever-tentacled subterranean beast that required training to ride. From, well, you get the point.
Many foreigners have an emotional attachment to their era of arrival in Beijing. Those pining now for the Tongli Studio area after its recent demise would get looks of bewilderment from people who left a dozen years ago with fond memories of South Bar Street, itself now long buried beneath Sanlitun Soho.
I arrived just a few years before the Olympics: that was my era. The era when Sanlitun and Workers Stadium went from areas with largely low-slung buildings and sparsely populated streets at night to the expensive, crowded, high rise-studded places they are today. There has been nearly a complete turnover, with an influx of ever-richer residents, an intensification of the Any City, Anywhere feel.
I remember walking with a friend in that area in 2008. He pointed at tables outside where foreigners drank Tsingtao while Chinese ordered more expensive foreign beers. We were witnessing the change, he said. The local residents with ever more money would use that spending power to make the city ever less 'Beijing'. For me, that twinned nicely with the immediate legacy of the Olympics, a successful event that gave Beijing far more prestige but perhaps at some cost to its very being. Still, it was fun, wasn't it?
*     *     *
Get regular Beijing updates via my
Instagram
and
Twitter
feeds. Also see my sibling sites
Grape Wall of China
,
World Baijiu Day
 and
World Marselan Day
. Help cover the hosting and other costs of these sites with a
WeChat
,
AliPay
or
PayPal
donation.
*     *     *