The word "passion" gets tossed around recklessly in the food field but it truly applies to Ray Heng and his desire to serve Mexican fare in China. I've written about Heng's menus (here and here) and his time studying cuisine at Kendall College, working at Frontera Grill in Chicago, and touring Mexico.
It might surprise some that a Chinese guy is heading the Mexican food charge in Beijing. But the contrast nicely fits his latest dish—tacos al pastor—one that hails from Mexico but was inspired from outside. Via Tacopedia:
… the key to the origins of [tacos al pastor] reside in the upright grill. Originally from Asia, the upright grill spread in popularity and has been used from India to Greece for roasting lamb. This roasted meat goes by different names—doner kebab, shawarma, doneraky, or gyros—but they all come from the same grill, with the meat placed on some kind of "bread" and accompanied by various salsas and garnishes.
This grill arrived in Mexico in the city of Peubla, undoubtedly stowed away in the baggage of a Middle-Eastern immigrant. By the 1930s, the evocatively named "Oriental tacos" were part of the local vernacular, and were served either on pita bread or a corn tortilla, with a chipotle chile salsa…. When the upright grill moved on from Puebla… the taco al pastor as we knew it today gradually came into being.
It came into being by pork replacing lamb, marinated replacing lightly seasoned meat, and cilantro and onions making an appearance, giving us the basis for what Heng is making.
Heng let me hang out in the kitchen last month as he prepared for his first Wednesday al pastor night. He was less than thrilled with his grill, which is concave rather than flat and thus more more Mediterranean than Mexican, he says, but such is life.
He hauled out a container of thinly sliced pork—leg, belly, shoulder—marinated in achiote pastes with apple vinegar, oil and more. (Recipes vary and many include citrus juice.) Each piece was then slid down a vertical skewer to create a mound.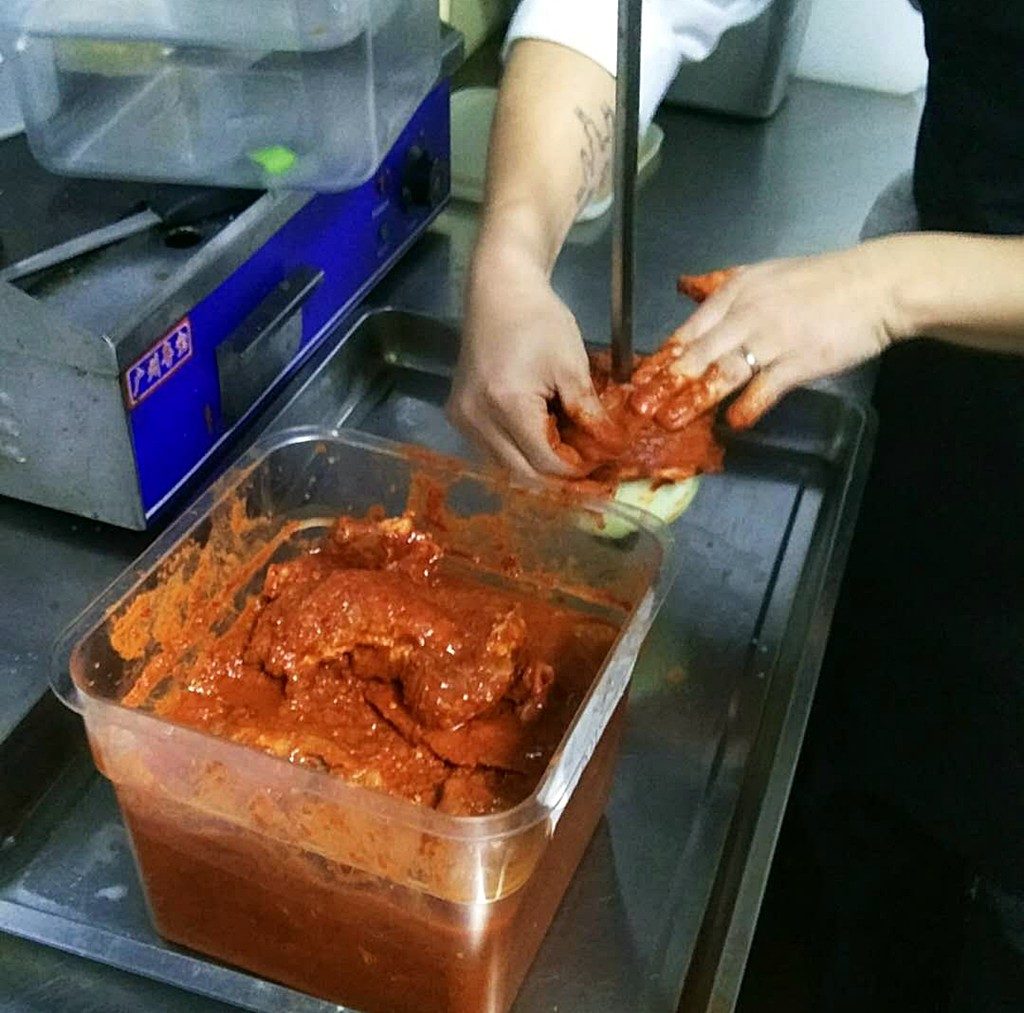 The pieces come in various shapes and thicknesses, each carefully fit with its predecessors, sort of like a pork puzzle. A tight fit avoids holes when the meat is grilled and cut. By the time Heng finished, his hands made him look like he came out of an operating room—or committed mass murder.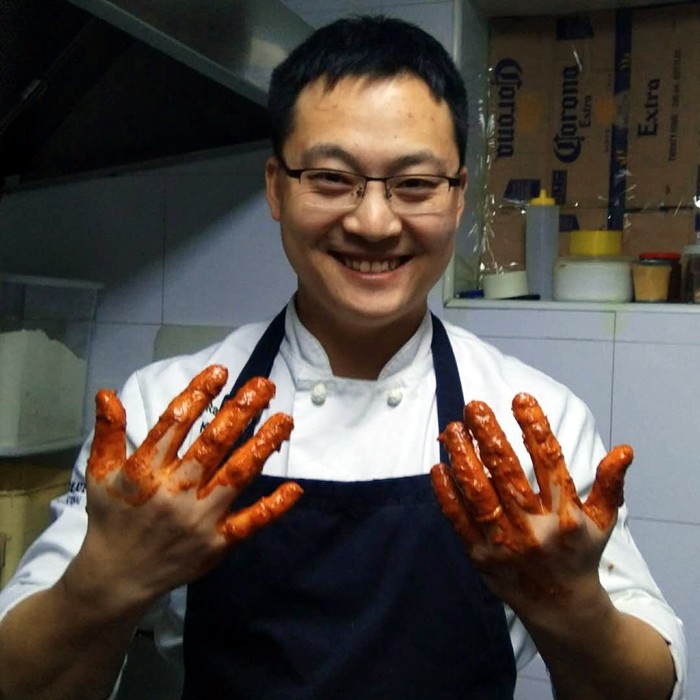 The meat-loaded skewer—called a "trompo" because it reminds people of a spinning top—is placed in the grill and the heat is then on. It takes 30 to 40 minutes to cook the outside layer and, after that meat is shaved, 10 to 15 minutes for each successive layer, says Heng.
For the first Wednesday special, Heng made 5 kilograms of grilled pork, enough for about 80 tacos. Then it was time to try them: good stuff!
Want a taste? Tacos al pastor night is every Wednesday at Pebbles, from 6 PM. Tacos are rmb20. There are also deals, including two tacos and a Slow Boat American pale ale for rmb70. And grab some other dishes off the menu, there is a lot of delicious stuff at Pebbles.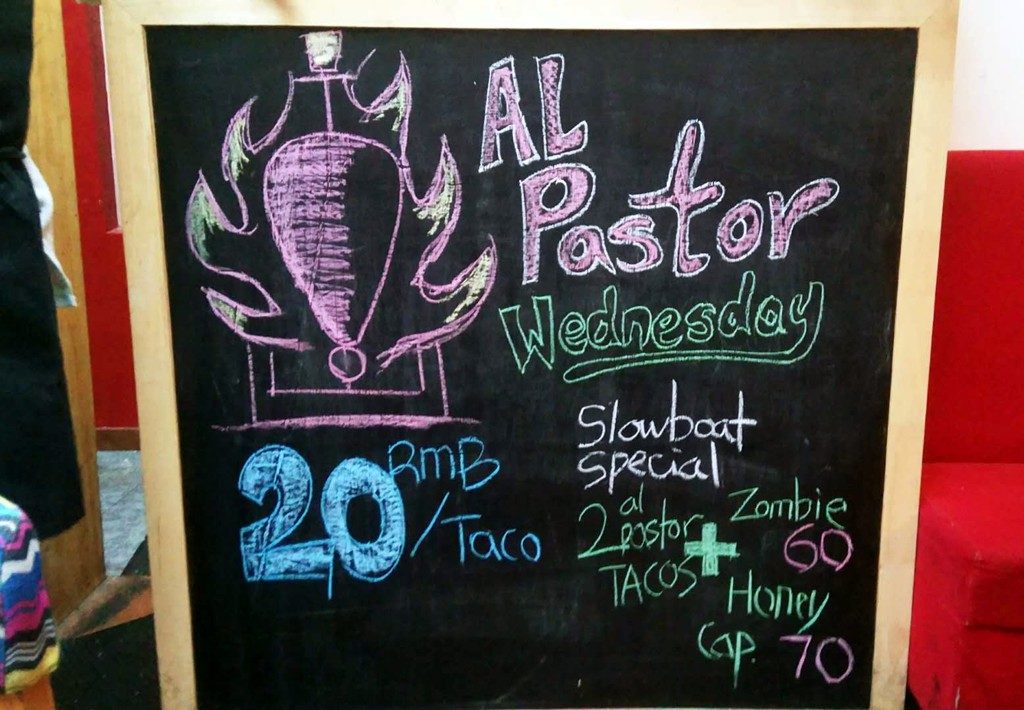 *     *     *
Get regular Beijing updates via my
Instagram
and
Twitter
feeds. Also see my sibling sites
Grape Wall of China
,
World Baijiu Day
 and
World Marselan Day
. Help cover the hosting and other costs of these sites with a
WeChat
,
AliPay
or
PayPal
donation.
*     *     *