Kudos to Team El Nido for helping craft beer in Beijing and China, in the year of the coronavirus crisis and the midst of a part of town said to have particularly zealous rule checkers.
If you've been in Beijing a while, you'll remember El Nido from the days when Fangjia was the hippest hutong, before it all got boarded, or rather bricked, some three years ago. Founder Li Shuai aka Xiao Shuai ranks among the early vendors turning people onto craft beer, usually from the picnic tables in front of his modestly sized but impressively stocked venue.
(My favorite memory is ending a friend's going-away pub crawl at El Nido and convincing a guy named Parker to figure out "Gonna Make You Sweat (Everybody Dance Now)" by C+C Music Factory on his mandolin at about 5 AM before we all headed off for breakfast. Good times.)
Anyway, it's been a long while since El Nido left Fangjiu and moved into The Other Place, a short walk away, to keep the taps — then the tacos –going. This year, the team has worked harder than ever.
Let's start with today. Zak Elmasri, partner with Xiao Shuai since Fangjiu Hutong days and a driving force behind places like Fang Bar and, just up the street, former snacks joint Tuk Tuk, announced a tap takeover.
The brewery: none other than No. 18 from Wuhan. If you've tried No. 18 products at any Beijing craft beer festivals, you know they put out some tasty stuff. And they are now on ten taps at Zhujing Ban, the venue that El Nido established to specialize in — tah dah — tap takeovers, like the one by Stone last year. (It's ten minutes by foot from the current El Nido and three minutes from the original spot.)
El Nido has also organized Chinese craft beer six-packs. In short, El Nido sources kegs from breweries about China, puts together six-packs using its canning machine, and ships them off to thirsty customers.
The current lineup includes Myth Monkey (Wuhu), Paper Plane (Xitang), Glass Hammer (Shenzhen), Eastgate (Tianjin), Wumu (Xi'an) and Leo Craft Beer (Taiyuan).
(Most people beyond China have likely not never heard of some of these cities–I know I hadn't before I moved here–but it shows how widespread is the craft beer scene.)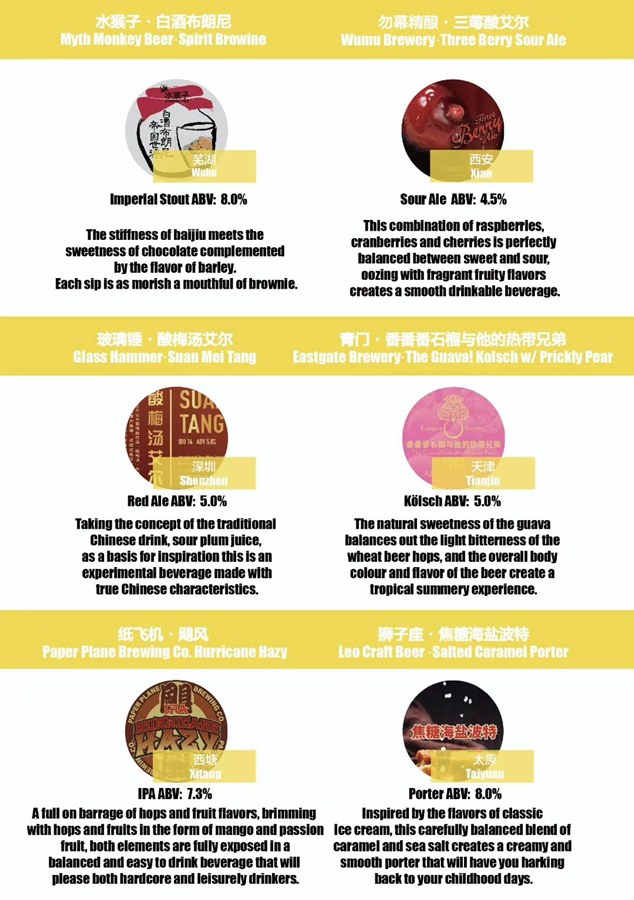 This series dates to late March / early April, when El Nido put together its first set, one that included Bravo (Guangzhou), Master Gao (Nanjing), Taste Room (Hangzhou), Trueman (Tianjin), Roller Coaster (Shenyang) and last, but certainly not least, No. 18 from Wuhan. This was at a time Wuhan was finally seeing its first easing of restrictions since lock-down. Yes, we are talking about six cans beer, but they represent connections between people during trying times, an act both symbolic and touching. And delicious.
I'll stop there even though there's plenty more, from El Nido keeping the taco and beer deals going, to holding a sour beer event to, this coming weekend, a two-day Rumble in the Jumble with a wide range of vendors. These guys just don't stop. Ever. They gonna make you move, gonna make you have fun, keep gonna make you… sweat? (Everybody dance now!)
*     *     *
Get regular Beijing updates via my
Instagram
and
Twitter
feeds. Also see my sibling sites
Grape Wall of China
,
World Baijiu Day
 and
World Marselan Day
. Help cover the hosting and other costs of these sites with a
WeChat
,
AliPay
or
PayPal
donation.
*     *     *