Many Sanlitun and area bars and restaurants that shut last month reopened this past week as Beijing's coronavirus situation improved. XL reopened yesterday, with Paddy O'Shea's set to follow today, and to offer happy hour from 3 PM.
Earlier this week, spots like Q Mex, The Local, Lucky Las Vegas, El Barrio, Daruma, Niajo and Nanjie all returned to action. Not all places were closed — some such as Hulu, Mosto, Home Plate and Taco Bar saw little or no down time — but for many it was a painful episode in an already a painful year.
---
One highlight of 2020 has been barman Frankie Zou–formerly at Maison Boulud, Domus, TRB and Botany–popping up at Yunnan restaurant In & Out. Zou has taken over the first first bar, and is even making drinks at a stand out front, with his own gin brand Vicu featuring in many.
Zou makes four gins, from London dry to barrel-aged. He makes a wickedly good martini, too, for 元50, most welcome as both Q Bar and Nao shut this year.
---
There have been some significant openings this year. Hulu opened a branch in Shunyi. The guys from Bottega opened a Rome-style pizza place called Forno and have another planned for next month. And Starbucks Reserve opened in Taikooli South. Pricey: 元69 lasagna, 元108 coffee martini, 元72 wine, 元68 beer. There's a cafe on first floor, bar on second and lots of outdoor seating. If you'd prefer something a bit smaller scale, head up the road to Berry Beans, across from TopWin.
---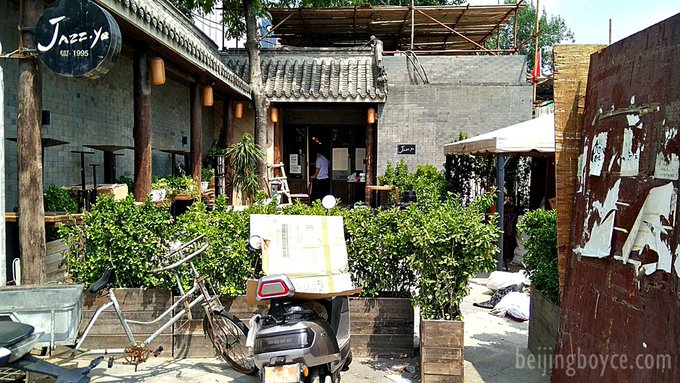 Relief! Saw a mess of scaffolding near Jazz-ya and thought maybe that place was done after a 25-year run. Nope. Just undergoing renovations, with a new bar and seating setup. Not many Beijing bars still around since 1995.
---
If you miss the smooth refreshing taste of baijiu and find yourself in Beijing, Stockholm, Christchurch, Singapore, Lima or 20-plus other cities on August 9, you're in luck, because it's the sixth annual World Baijiu Day. (August 9 –> 8/9 –> 八 / 九 –> ba / jiu –> baijiu.)
Caution is the word this year but we plan to have events in cities / countries where restaurants / bars are safely open. Our theme is "beyond ganbei"–that means baijiu cocktails, coffee, chocolate, ice cream, pizza and more.
For example, in Stockholm, Ludwig Saaf of Jiuxian and gelato chain Stikki Nikki will do a trio of 'baijiu-latos" for a third straight year. In Christchurch, Glenn Schuitman of Pop-Up Beijing fame is teaming with New Zealand producer Taizi for some kaoliang fun. In Beijing, I'm aiming to do stuff with Hulu, Georgia's Feast and Superfly — check out this cocktail. More details to come here.
---
Finally, save 元 at Union, Hulu, Bottega, Bistro 108, Craft Container, Buona Bocca, Red Lobster, Cafe Luigi, Lily's American Dinner, Moka Bros, Blue Frog, Brotzeit, Turkish Feast, Paddy O'Sheas, O'Steak, Centro, Beer Boom, Eudora Station, Lenore's, Prodigy Brewing, Vicu at In & Out, Georgia's Feast, Superfly, Vesuvio, O'Steak, XL, Pi Bar, Gung Ho, Beersmith, Side Street, Burger Box, Q Mex, Luga's, Jing-A, The Local, Pebbles and more. I've updated the food deals list here and the drink deals list here.
*     *     *
Get regular Beijing updates via my
Instagram
and
Twitter
feeds. Also see my sibling sites
Grape Wall of China
,
World Baijiu Day
 and
World Marselan Day
. Help cover the hosting and other costs of these sites with a
WeChat
,
AliPay
or
PayPal
donation.
*     *     *