Busy busy year here in Beijing both personally and in terms of the bar and restaurant scene. Given all this activity, it's hard to believe most of us were holed up at home just one year ago.
Anyway, I've been posting regularly on social media, but not so much here, save for this one-year update about how TRB Group fought the coronavirus crisis and efforts to keep the drinks deals and food deals pages fairly fresh. So, here are a few items about openings, closings et al, mostly pulled from my WeChat and Twitter feeds.
Also see this craft beer post, covering the permanent closing of Boxing Cat, apparent closing of Prodigy (hope they figure something out!) and one-day closing of Great Leap, plus info about Jing-A, Zhujing Ban, El Nido, Sour Tower and more.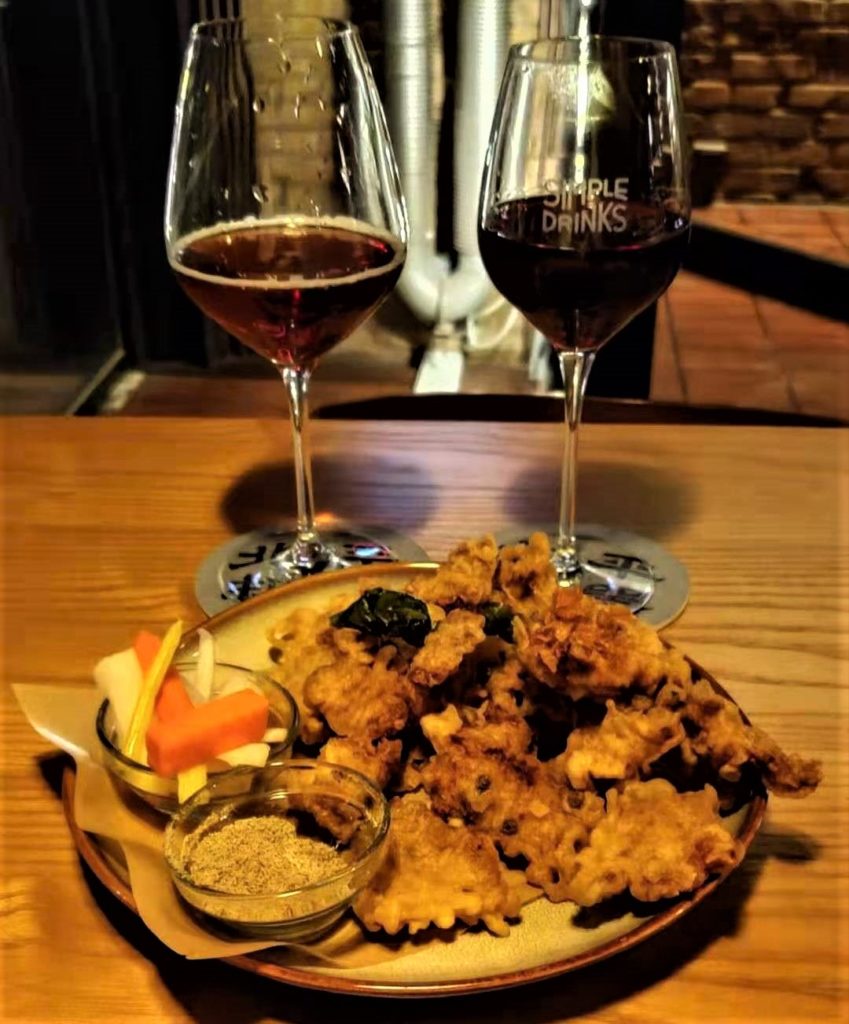 Speaking of Sour Tower, this newcomer teamed up with Simple Drinks / Duet Cafe for a sour beer / natural wine / snacks deal last weekend. Doesn't seem that long ago when we were excited to get draft Stella in Beijing and now we have a dedicated sour beer bar. Sour Tower is beside and operated by Beiping Maching Brewing just off Fangjiu courtyard. You can also stop by Tiki Bungalow while you're at it.
Mexican restaurant Pebbles will soon open a spinoff taco and mezcal joint called El Mercadito in Shunyi. Pebbles has also launched an agave spirits platform on WeChat, is planning its Agave 7.0 tasting, is selling some retail goods (tortillas, sauces, etc), has added five beers from Mexico's Minerva, and more.
Georgia's Feast closed in 2020 after a six-year run but plans for a far bigger place, in the former Luga's brew pub on Ghost Street, have been underway for months. Sibling Turkish Feast has weekday lunch specials and half-price deals Monday to Thursday nights–they just changed the Wednesday one to half-price burgers. Also, try the pistachio baklava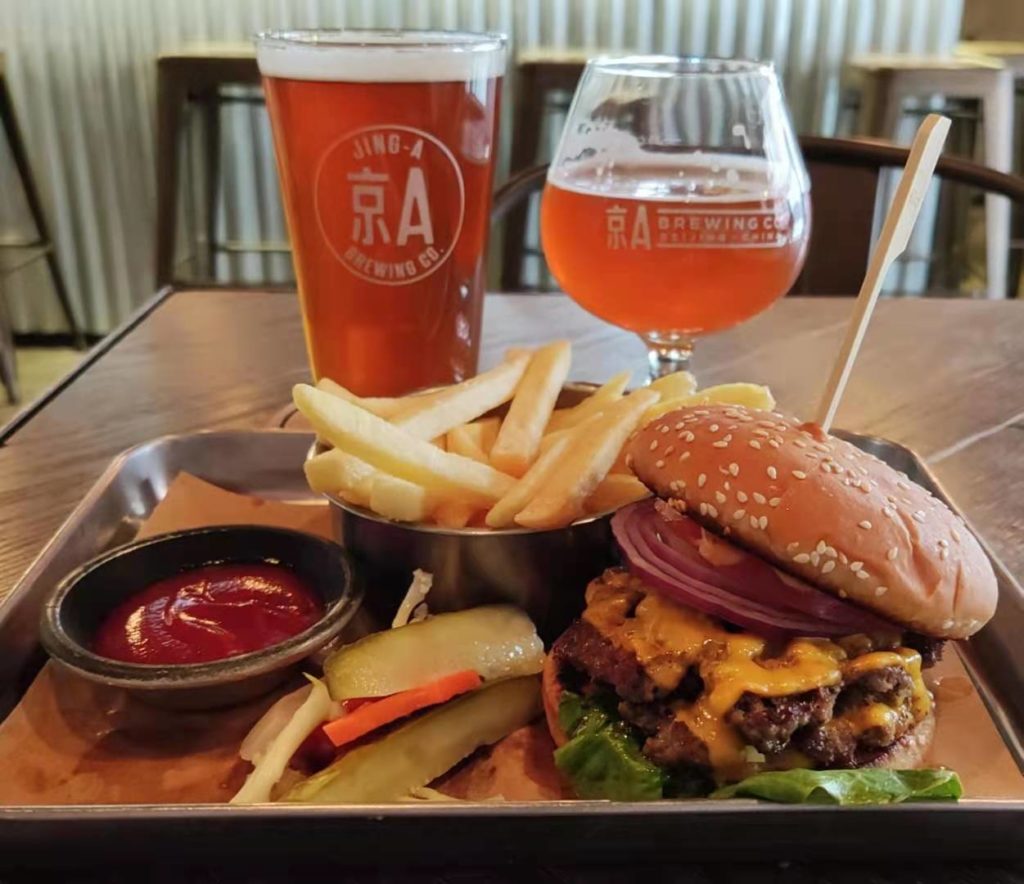 Speaking of lunch / burgers, check out Jing-A Xingfucun. For the Worker's Lunch, buy any sandwich or burger and get a free drink from six options, including three beers. Monday to Friday. Try the double cheeseburger.
Relatively new M Natural in Nali Patio Sanlitun also has some tasty lunch options though far pricier. But it's nice to sit at the bar and see the grill and bread oven in action.
Peach, part of TRB Group, opened its second branch, this one upstairs in the Jenny Lou's in Sanlitun–beside In 'n' Out Yunnan restaurant–with seating for 12 to 15, plus tables on the sidewalk out front. Half-price deals include burgers on Wednesdays and fish and chips on Fridays. 10 AM to 8 PM. The original Peach near WAB runs 7 AM to 7 PM with the same deals.
Green papaya salad alert. Bangkok Thai restaurant Supanniga will open a Beijing branch this summer. (Supanniga is a bright yellow Thai flower.) This project involves the owner of southeast Asian restaurant Kakikopi. If you like spicy noodles, check out the laksa at that latter place.
Beijing's most high-profile Irish bar, Paddy O'Shea's, closed for St. Patrick's Day due to the authorities' concern about large gatherings. Despite COVID-19 cases being few and far between, mask wearing remains widespread, and mandatory in places as subways, and health kit QR-code checks are ubiquitous. Those in search of Guinness et al could still fill up at places like Beersmith, Irish Volunteer, Eudora Station and Groovy Schiller's.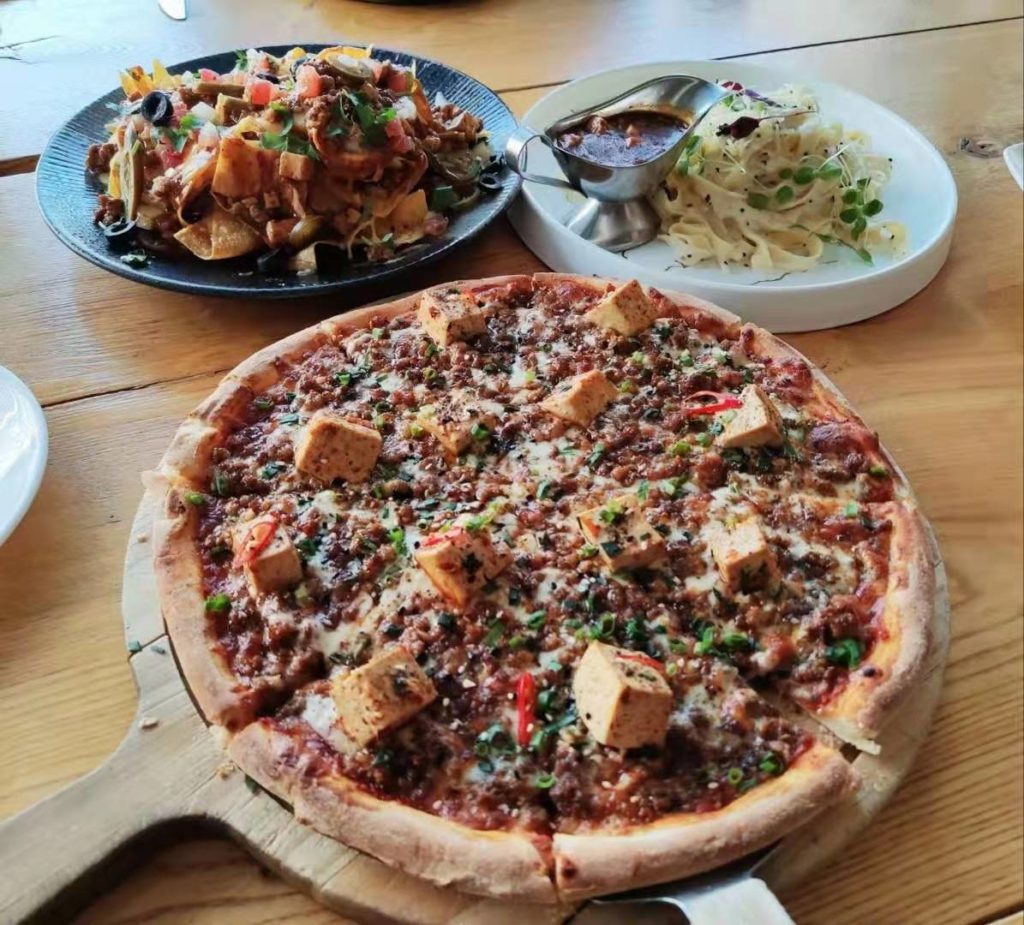 Finally, a random recommendation. If you love mapo tofu, check out The Rug, which offers it with pizza, pasta and nacho twists. Also, try the boba yogurt dessert.
*     *     *
Get regular Beijing updates via my
Instagram
and
Twitter
feeds. Also see my sibling sites
Grape Wall of China
,
World Baijiu Day
 and
World Marselan Day
. Help cover the hosting and other costs of these sites with a
WeChat
,
AliPay
or
PayPal
donation.
*     *     *