[People have asked for ages why I don't post more updates. Partly because social media made info so easy to find; and I got busy with projects like World Baijiu Day; and I got a bit bored. Anyway, I'm going to start running a tab of Beijing restaurants and bars that I visit / like. If the response is good, I'll keep going; if not, such is life. Constructive feedback and tips welcome on WeChat via beijingboyce or email via beijingboyce (at) yahoo.com.]
---
Birthdays Migas
Thirteen years since Migas opened atop Nali Patio and changed the F&B scene for the better. What other venue combined cutting-edge cuisine with raucous rooftop parties? Migas has since moved to Guomao and rebranded as Migas Mercado, and Eduardo Gutierrez is now mulling a few theme changes. And also opening a deli: see below.
My favorite Migas memories are of the weekday lunches, with a new weekly menus perfect whether you went with friends or visitors to Beijing, and the cooking demos, including one with a butcher carving a rabbit, a sausage maker turning it into links and a chef using those links to make dishes that were passed around to taste. Oh, and joining the Migas team on a visit to a Beijing slaughterhouse!
I covered a bunch of that stuff in a flashback post I did way back for Migas' sixth birthday. Check it out here.
---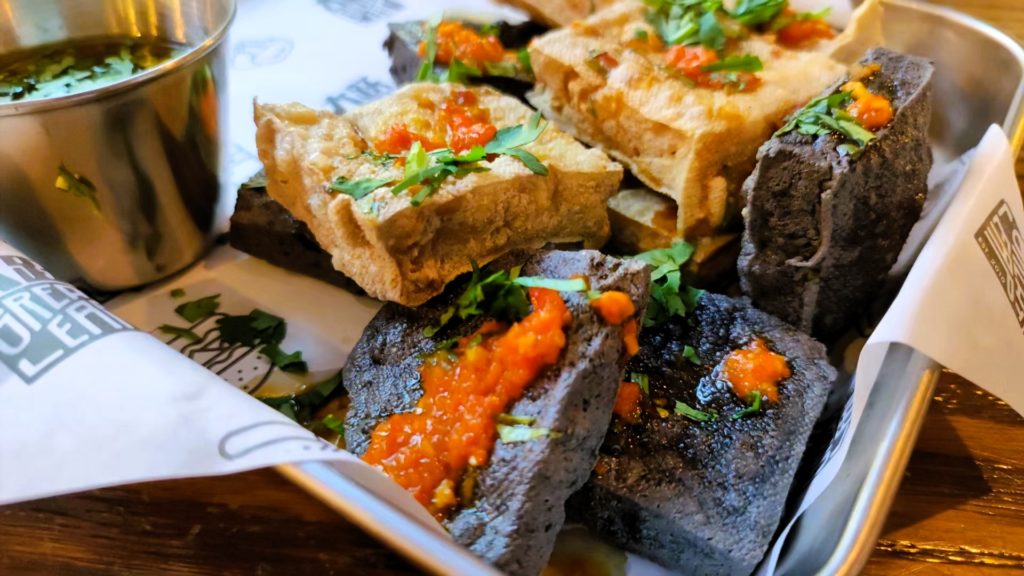 Taste Great Leap
One of the favorite new treats of the past year is the Wicked Hot Changsha Tofu aka stinky tofu at Great Leap. While many such tofus are sold streetside in a paper bowl and a bit soupy, this one comes dry, with a side of dipping sauce. The texture is excellent — crisp outside and tender inside — though the spiciness level varies greatly based on four visits.
Try it with Great Leap's refreshing mead. And, if you like spice, the la zi ji. These guys also do a good hot dog.
---
New Mosto at The Park
With Nali Patio now closed, Mosto has relocated near Chaoyang Park, to the same community as Beiping Gelato (known for its hotpot- and baijiu-themed flavors), DAO Coffee (also with craft beer) and cavernous cocktail bar The Bond by Hide & Seek (the upstairs neighbor).
This is a cozy retreat with table / bar seating, an exposed kitchen and subdued lighting inside, and a cozy terrace just off the main plaza, which is a modest stress-reducing walk from the busy street.
Expect wines from RMB50 per glass and RMB251 per bottle, plus cocktails and mocktails for RMB60. The house cocktail "The Mosto" is a balanced, refreshing slightly tannic blend of jasmine tea, green tea syrup, rum, Chambord and egg white. I've yet to eat at the new Mosto but reports from aquaintances are good.
It was nice to run into co-owner Alex Molina: I first met him just before the 2008 Beijing Olympics when he worked at the former Garden of Delights in Wangfujing.
---
New Wild Kite
The second branch of Wild Kite just opened near the CBD branch of Burge's Bar & Bistro. Expect an airy interior, a terrace out front, two dozen beers on tap from 元45, but with most 元58 and up, and a fridge with a bunch of canned options. Plus, a menu of burgers, pastas and more.
I haven't tried the burger here but the one at the original hutong Wild Kite, beside Taco Bar, is a worthy effort, with the beer-battered fries most excellent.
---
Coming Eastend
The guys from Sanlitun bar, restaurant and music hub Apollo plan to open a deli called Eastend next door over the next few weeks. Homemade bread, pickles, cold cuts and more will feature.
I met Eduardo Gutierrez, who helped launch Migas, and Jarrod Verbiak, whose resume includes Maison Boulud and Bistrot F, and tasted some of the cold cuts, including those flavored with cheddar and with red wine. Tasty stuff!
Add a wine cellar, initially stocked with Spanish labels from importer Alberto Pascual of Pasion, and lots of seating, and this will also double as a good place to share a bottle and some snacks. (Pascual is known for carrying 30-plus bottles to tastings: see my post, Wine Meets Weightlifting.)
Also check out Apollo itself (see video below), which blends a terse high-quality food / drink menu with a DJ booth and loads of vinyl.
---
Deals Fork & Peach
TRB Group and its Peach, Fork and Iberico restaurants are known for quality service and food. They have also recently launched some impressive deals.
Case in point: RMB10 oysters at Fork on weekends, an incredible discount of more than 80 percent. And if you go on Sunday, you can also indulge in half-price wine. Plus, you can work it out with a nice long stroll nearby in Houhai.
Peach also has some outstanding deals. Along with 38 burger sets on Wednesdays and 38 fish and chips on Fridays, all Peach branches currently have a roasted chicken and potatoes deal for just RMB78, from 5 PM to 8 PM, until September 10. Pay one more RMB and you get a soda or Tsingtao beer. Also, check out Peach's lasagne and Chorizo sausage pasta.
(I'll always remember TRB Group as the beacon of hope during the early uncertain months of the COVID era. See my post, "How TRB Group survived, and thrived, during the virus crisis.')
---
New La Terrace
The sprawling La Terrace in Liangmaqiao is the newest wine-centric venture by Liu Fan, owner of natural wine-focused Solitude bar on the same building's first floor.
La Terrace takes the entire rooftop, with an enclosed bar and wine cellar at one end, a grilling station at the other end, and sprawling outdoor seating with a picnic table / camping vibe in between (see video below).
For the orange wine lovers out there, Liu has dozens of options, as well as more traditional pours. There are also nine beers to go with an eclectic menu that includes kebabs, salads and risotto.
Liu Fan is putting the finishing touches on yet another venue, a two-story restaurant in the Sanlitun area, with room for 800-plus wines. I keep hearing that wine sales are suffering in Beijing; but we keep seeing more and more places opening.
---
Coming Fusion
George Zhou of Q Bar, George's Bar and Midnight Cafe fame has a new project, Fusion Restaurant & Bar, with lots of comfort food options atop the new The Box complex between Workers Stadium and Ritan Park. Expect seating for up to 150 as well as a large events area that might ultimately host food and drink festivals.
The Box as a whole, billed as a Youth Energy Center, is gradually coming online, with an NBA Hoops zone and skatepark already open along with plenty of retail outlets and a few of the expected dozen-plus F&B ones, including one called Poupee. The video below shows a Hennessy popup in the NBA Hoops zone.
---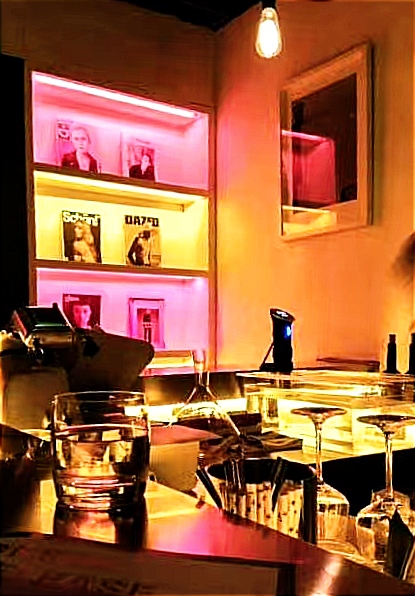 Flashback Press Release
Five years since the quirky speakeasy Press Release closed in Beijing. Opened by Issey Lin behind a secret door within a restaurant on TopWin's basement level, it had Chinese, Lebanese and Milanese inspiration. And a creative cocktail list focused on recipes that featured wine — think peanut butter-infused Bourbon with a float of Sangiovese and a sprig of mint.
Lin left for Lebanan to open Electric Bing Sutt with husband Jad Ballout, a place that soon found itself on the World's Best 50 Bars list but was severely damaged in that huge explosion in 2020, then to Barcelona to open the bar Dead End Paradise. See my original post on Press Release here.
---
Deals Bottega & Forno
Sibling pizza joints Bottega and Fork added sweet happy hour deals on beer, wine and cocktails. In both cases, the deals run from noon to 7 PM, Monday to Thursday, with over a dozen options at each, most of them ~RMB40. (Try the Venetian spritzer, with lemon and mint. Refreshing in this muggy weather.)
By the way, there is but one Bottega in town now that Nali Patio has closed. By the way II, Forno switched from serving those square pizza slabs to pinsa, an ancient form of Roman pizza. The texture and spring of the crust is top-notch but I still miss that pizza.
I still remember the one time that place had pineapple on pizza. (Of course, I had to bring the pineapple.)
---
Constructive feedback and Beijing food and drinks tips welcome at beijingboyce (at) yahoo.com.
*     *     *
Get regular Beijing updates via my
Instagram
and
Twitter
feeds. Also see my sibling sites
Grape Wall of China
,
World Baijiu Day
 and
World Marselan Day
. Help cover the hosting and other costs of these sites with a
WeChat
,
AliPay
or
PayPal
donation.
*     *     *