By Jim Boyce | I grab my groceries at a lot of spots in the Gongti-Sanlitun zone, from the fresh markets to Qi Yuan grocery just behind Yashow to good old Jingkelong, 7-ELEVEN and Lin's. But I've found myself stopping into the April Gourmet in TopWin a lot more because there are just so many deals. Case in point, I dropped by yesterday and grabbed:
A 150-gram bag of Tyrell's cheddar and chive potato chips for rmb12.
A 250-gram bag of ground Italian Coop coffee for rmb10.
A large bar of 72 percent cacao chocolate for rmb12 (to replace the once I used for this).
And a three-pack of Lady Liberty microwave popcorn—straight outta Shannon, Illinois!—for rmb13.
There are always lots more discounts, on everything from cookies to pasta sauce to TimTams, so it's worth checking out. By the way, none of the items were beyond their "past due" date. The chips and coffee listed March, the chocolate May and the popcorn August.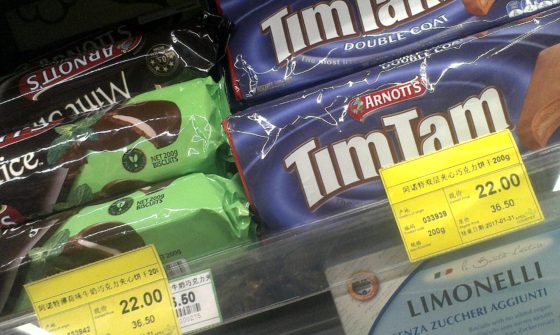 ---
Check my sibling sites Grape Wall and Beijing Boyce.
Check out my lists of Beijing
food deals
 and
drink deals
. Also get updates via
Twitter
,
Instagram
and
Facebook
. And check out my sibling sites
Grape Wall of China
,
World Baijiu Day
 and
World Marselan Day
.  If this site helped you find new bars, restaurants, foods and drinks, or saved you money, consider helping to cover the hosting and other costs with a
WeChat
 or 
PayPal
donation.